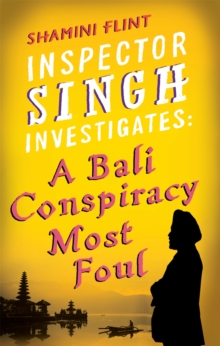 Inspector Singh Investigates: A Bali Conspiracy Most Foul
Paperback
Description
Inspector Singh is back, but this time on secondment to Bali.
A bomb has exploded and Singh has been sent to help with anti-terrorism efforts.
But there's a slight problem: he knows squat about hunting terrorists.
He's much better suited to solving murder! So when a body is discovered in the wreckage, killed by a bullet before the bomb went off, Singh should be the one to find the answers - especially with the help of a wily Australian copper by his side.
But simple murders are never as simple as they seem - and this one has far-reaching global consequences ...
Information
Format: Paperback
Pages: 304 pages
Publisher: Little, Brown Book Group
Publication Date: 01/09/2009
Category: Crime & mystery
ISBN: 9780749929763
Free Home Delivery
on all orders
Pick up orders
from local bookshops
Reviews
Showing 1 - 5 of 7 reviews.
Previous | Next
Review by JulesJones
16/06/2015
I was recently offered review copies of the second and third books in the Inspector Singh Investigates series by Shamini Flint, about a Sikh detective in the Singapore police force. I was pleased to accept, as I thought that the first book was very enjoyable, if flawed. I'm very happy to say that the second book, A Bali Conspiracy Most Foul, makes good on the promise shown by the first. The story's just as good, but the writing's much smoother in this episode of the Inspector's adventures, without the choppy pacing and info-dumping of the first in the series. The character of Inspector Singh is a wonderful concept, and this book offers a plot to do him justice.Singh's a good detective, with a track record in catching killers, but he doesn't fit into the current force culture. So once again inspector Singh's senior officers are only too glad to get him out of their hair by volunteering him as their contribution to a major police investigation in a neighbouring country. In this book the country is Bali, and the crime is once again murder, but this time on a large scale. As the book opens, he's feeling frustrated because for all his skill at catching killers he has no experience relevant to the investigation of a terrorist attack. But soon there is work for him, for Flint has taken the real life tragedy of the Bali bombings, and added a separate murder mystery. One of the skull fragments recovered from the bomb site has a bullet hole through it. One of the dead was already dead at another's hand *before* the bomb went off.Singh might be a fifth wheel on the bomb investigation, but murder on the individual scale is a completely different matter. He takes on the task of finding justice for the one victim out of dozens he can help in death. His temporary assistant this time out is an Australian policewoman from the bomb investigation team. Bronwyn Taylor has also been sidelined by her superiors for perceived insubordination, and her expert area is Indonesian language and culture, not murder. Her personality is far from a perfect match for Singh's and he often finds her irritating, but nevertheless the two make a good team for this case.The book's viewpoint moves around between disparate groups who have had their lives disrupted by the bombing. The primary focus is the two police officers; but there is also a group of rather unappealing British and Australian ex-pats, one of whom has been missing since the bomb, a small group of Indonesian Muslims from another island, and of course some of the local Bali people, both within the police force and without. Singh and Taylor have a long slog piecing together the clues, even after an early breakthrough in identifying the shooting victim, but gradually the different threads they hold start to twine together, leading to a thrilling climax.It would be very easy for a book using this subject to slip into exploitation, but Flint treats it with great sensitivity. One of the strengths of the first book was the way Flint showed multiple culture clashes from multiple angles, and this book develops the same themes. There is no demonising of any one group, and there is a thoughtful examination of how and why the different groups are motivated to behave as they do. The book is often gently funny and relatively light in tone even though it's using such a grim background and tackles some serious subjects. This can be a difficult balancing act to pull off, but this book does it well.As with the first book, Singh himself is a marvellous character, and the other characters are well drawn. Team this with a good story and an evocative description of Bali, and you've got a book that's well worth your time. I'm looking forward to reading the third book, which is set in Flint's current home, Singapore.
Review by cathyskye
16/06/2015
First Line: Jimi's hands were clammy.Inspector Singh's superiors in Singapore still don't want him around, so when a bomb explodes in Bali, they send him to help with the anti-terrorism efforts. The problem is, he's tops in solving murders. Send him on a terrorist hunt, and the man doesn't have a clue. So when a body is discovered in the wreckage that has a bullet hole in its skull, Singh finally feels as though he can do something worthwhile. Now... if he could just get rid of the Australian female cop who's been assigned as his partner....Following the twists and turns of the plot was fun, and the Australian police officer, Bronwyn Taylor, made an excellent sidekick for the grouchy Inspector Singh. Although I didn't get as good a "feel" for Bali as I did for Malaysia when I read the first book in the series (A Most Peculiar Malaysian Murder), I did come away understanding how important tourism is to the country.If the idea of reading about people who plan to build bombs to kill as many people as possible bothers you, you may want to give this book a miss, but this part of the plot is handled very well and with sensitivity.I think most armchair detectives who enjoy reading mysteries set in far-off lands are going to have the tendency to think of Flint's Inspector Singh and Tarquin Hall's Vish Puri almost in the same thought. I can see why they would. They are both larger-than-life characters who operate in roughly the same part of the world. But they are very different people.Puri is a private investigator who answers to no one, and he has a very happy home life. Inspector Singh, on the other hand, is a member of the Singapore police force and must answer to superiors who-- even though they like the results he gets-- want to get rid of him. He doesn't fit their ideal of the twenty-first century policeman. His home life also isn't as happy as Vish Puri's.I enjoy reading of Vish Puri's cases in India, but there will always be a place in my heart for grumpy Inspector Singh. He always gets the bad guy regardless what obstacles are thrown in his path.
Review by austcrimefiction
16/06/2015
The second Inspector Singh novel from Shamini Flint takes Singh to Bali to join the anti-terrorism efforts post a major bombing that ripped through the tourist areas. What exactly Singh is doing as part of a anti-terrorism squad is no clearer to him than it is to anybody else, but the body in the wreckage, shot dead before the bomb gives Singh the sort of case that he's used to solving - a straight-forward murder. When I read the first book (A MOST PECULIAR MALAYSIAN MURDER) I did comment "This book is definitely on the lighter side of crime fiction, I'll have to read the next couple that I have here to be able to say if that's an ongoing characteristic, but I'm guessing it's probably exactly where the books are heading." I suspect that the covers and the general persona of Inspector Singh doesn't help but lead you to draw that conclusion, but really, reading this outing, it's not exactly right. There's a light-handed touch with the characters and some lovely humour and reality about everyone in the books - but the subject matter in this case isn't light-hearted and it isn't cosy, and there are many elements in this book to make people sit up and take notice. There's quite a bit of skill here - keeping that balance between the light touch and the dark subject. The character of Inspector Singh is beautifully complimented by his partner in the murder investigation - Bronwyn Taylor, Australian Federal Police member, a "big-boned woman (whatever that means), who unlike Singh has very little experience in investigating straight out murder scenes. Like Singh she's been sidelined by her superiors, like Singh, she can be a bit annoying. The overwhelming investigation of the terrorists behind the bomb plot gives Singh and Taylor the perfect under the radar environment in which to find out the truth behind this baffling shooting. Harking back again to my earlier review I also commented "In future books I really hope that he hits his stride, embraces his inner grumpy old man and gets to grips with his surroundings. I'm also hoping that the next books have a little more leeway to introduce the world that Inspector Singh inhabits, as this first book did seem to have it's hands full introducing him." I'm pleased to say that Flint has definitely sharpened up the character of Singh. He's wonderfully grumpy (unless placated by a Bintang beer and a good meal), he's an expert at annoying just about everyone around him (sometimes accidentally) but always with supreme indifference. Singh and Taylor annoy each other in spades, whilst they also eventually manage to build a grudging respect for each other. The setting in this book is also bought into much sharper focus - Bali's dual sides are drawn beautifully - tourist and local; the food, sights, sounds and rush and bustle of the place is almost visual in this book. There's much to like about the way that this series is heading, not the least because there are now two more books that I'm really looking forward to reading! Shamini is one of the International Guests of Honour at SheKilda Again 2011 in Melbourne in October
Review by smik
16/06/2015
This book is of special interest to Australians because it is based around the Bali bombings of October 2002 when 202 people, (including 88 Australians, and 38 Indonesian citizens) were killed when 3 bombs were detonated, two at Kuta and one in Denpasar.The irony of the story is that while the police are hunting down those responsible for mass murder, Inspector Singh and Bronwyn Taylor, an Australian Federal Policewoman, are deployed to hunt down someone who used the bombing to cover up a homicide. No-one expects Singh and his offsider to succeed for both are held in pretty low regard by their colleagues.The plot is a clever mix of fact and fiction, with some of the characters' names resembling those eventually convicted of the bombings. The author does a good job of describing why the bombings happened, how ordinary people were caught up in them: the bombers themselves, the ex-pat community, the Balinese economy and people. I liked the fleshing out of Inspector Singh much better than in #1 in the series. Bronwyn Taylor, the Australian policewoman, comes over well as both compassionate and conscientious, and she and Singh make a good team.I thought too that the author captured the flavour of Bali very well, although I have to admit it is 35 years since I was there. Time for another holiday I reckon.Narrator Jonathan Keeble does a good job with a range of accents including some dreadfully flat Australian ones.
Review by MikeRhode
27/08/2015
Enjoyable. I'll track down the rest of the series.
Also in the Inspector Singh Investigates Series series | View all