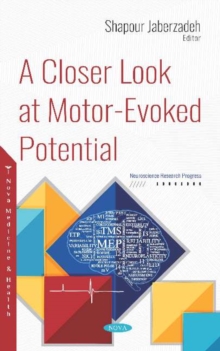 A Closer Look at Motor-Evoked Potential
Hardback
Description
This book is an update concerning the use of transcranial magnetic stimulation (TMS) as an assessment tool for the measurement of corticospinal excitability in interventional and non-interventional studies.
As a text for laboratory innovation, this book enables readers to bring their TMS laboratory to a new level of professionalism.
As a less experienced TMS operator, it will assist readers in understanding the conventional and novel approaches to determination motor thresholds and help them become familiar with different uses of TMS induced motor evoked potentials (MEPs) in health and disease.
This book not only identifies the reasons behind the variability of the TMS induced MEPs, but also describes the ways to minimize this variability.
It also highlights the factors affecting MEP amplitude reliability and answers the fundamental question of why the establishment of TMS operator reliability is a must in any TMS study.
Reasons as to why the stimulus-response curve is a better approach for the assessment of corticospinal excitability are accentuated.
A detailed step-by-step description of the single- or paired-pulse TMS protocols for the assessment of inhibitory or excitatory circuits within the brain are also provided.
Finally, this book will give readers a better understanding of the risks associated with the use of TMS for both TMS operators and participants.
Information
Format: Hardback
Pages: 214 pages
Publisher: Nova Science Publishers Inc
Publication Date: 06/12/2018
Category: Neurosciences
ISBN: 9781536143898