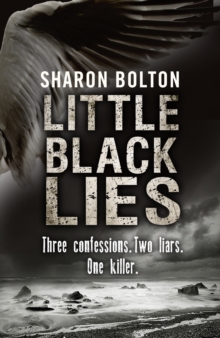 Little Black Lies
Hardback
Description
What's the worst thing your best friend could do to you?
Admittedly, it wasn't murder. A moment's carelessness, a tragic accident - and two children are dead.
Yours. Living in a small island community, you can't escape the woman who destroyed your life.
Each chance encounter is an agonizing reminder of what you've lost - your family, your future, your sanity.
How long before revenge becomes irresistible? With no reason to go on living, why shouldn't you turn your darkest thoughts into deeds?
So now, what's the worst thing you can do to your best friend?
Information
Format: Hardback
Pages: 368 pages
Publisher: Transworld Publishers Ltd
Publication Date: 02/07/2015
Category: Crime & mystery
ISBN: 9780593069202
Other Formats
Paperback from £6.55
EPUB from £4.99
Free Home Delivery
on all orders
Pick up orders
from local bookshops
Reviews
Showing 1 - 2 of 2 reviews.
Review by nicx27
27/08/2015
This book is set on the Falkland Islands in 1994, 12 years after the end of the conflict. Catrin's best friend, Rachel, was responsible for the deaths of Catrin's two sons in a tragic accident. Despite living in a small community they somehow manage to avoid each other but Catrin is unable to forgive Rachel for her carelessness and now her mind is turning towards revenge. Callum is a Scottish ex-soldier who has settled on the islands but who has flashbacks to terrible events during the conflict. Add in a series of missing children and you have a very interesting storyline that isn't just about Catrin's pain.The book is split into three segments, told from the points of view of Catrin, Callum and Rachel. I really enjoyed the book and found it to be a real page-turner. It wasn't quite what I was expecting as the story unfolded in ways I couldn't have imagined. Each story focuses on the same few days but from the different perspectives which is a clever plot development device. I felt Catrin's pain for the loss of her children and how empty she felt inside, sympathised with how guilty Rachel must have felt and wondered how a soldier such as Callum copes with the distressing memories that he has. The quality of Bolton's writing is excellent and I definitely want to read more of her work. I particularly liked the small island backdrop - in a way the islands are just as much a character as anybody else. Great read.
Review by shelleyraec
27/08/2015
Little Black Lies is a taut, twisty thriller from Sharon Bolton. It begins when a child goes missing, the third in three years from the sparsely populated Falkland Islands.The narrative is divided into thirds, unfolding from the perspectives of three unique and complex characters. For Catrin the disappearance is an inconvenience. She has a schedule to keep, plans for the woman she blames for the tragic death of her young sons as an anniversary approaches. Callum, an ex-soldier with PTSD, has a theory about the abducted children that the local police are choosing to ignore. Rachel, who spends most of her days in bed, is largely oblivious until her youngest son goes missing.The well crafted plot, which I don't wish to elaborate on, reveals the links between these characters, whose lives have been tainted by grief and tragedy, and their connection to the missing children over a period of five days. Though the pace is measured, the story is propelled by cinching tension and breath taking twists.The setting is atmospheric, the isolated island itself has great presence in the novel from its rugged coastline to its rocky terrain, and its history, as the site of the bloody if short lived war for sovereignty between Britain and Argentina in the early 1980's, also plays into the story.Fans of poetry should enjoy the references throughout the novel to 'The Rime of the Ancient Mariner' by Samuel Taylor Coleridge, and Bolton skilfully utilises the imagery the verses evoke.Since then, at an uncertain hour,That agony returns:And till my ghastly tale is told,This heart within me burns.Little Black Lies is a tense, dark and disturbing story about revenge and redemption, that leads to a stunning conclusion. I could hardly put it down.