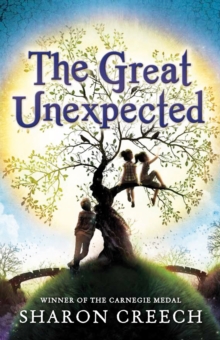 The Great Unexpected
Hardback
Description
In the little town of Blackbird Tree a series of curious events unfold when Naomi and Lizzie, two spirited orphan girls, meet the strangely charming new boy, Finn.
Three locked trunks, the mysterious Dingle Dangle man, a pair of rooks, a crooked bridge, and that boy change their lives for ever.
As the story alternates between their small town and across-the-ocean Ireland, two worlds are woven together, revealing that hearts can be mended and that there is indeed a gossamer thread that connects us all.
Information
Format: Hardback
Pages: 224 pages, Chapter head illustrations throughout
Publisher: Andersen Press Ltd
Publication Date: 01/11/2012
Category: General
ISBN: 9781849390927
Other Formats
Paperback from £5.59
EPUB from £3.99
Free Home Delivery
on all orders
Pick up orders
from local bookshops
Reviews
Showing 1 - 3 of 3 reviews.
Review by ccostakis
16/06/2015
This was a complex tale about two orphan girls trying to find their place in the world, when a strange boy falls out of a tree! In this small town, things start to get connected, all the way across the ocean in Ireland. This is a nice coming of age story that follows Naomi and Lizzie as they try to find out who they are and where they fit! A great story for upper elementary and middle school students.
Review by Whisper1
16/06/2015
This is yet another insightful, wonderful book by Sharon Creech.Mentioned as a potential Newbery award winner for 2013, I hope Creech is successful in garnering her third Newbery award.I loved Walk Two Moons, a Newbery medal winner in 1995. She won a Newbery honor in 2001 for The Wanderer.The setting of The Great Unexpected is a teeny, tiny, hamlet of Blackbird Tree. Naomi and Lizzie are good friends, both are orphans. Many in the town of Blackbird face difficult lives. In fact, one new teacher only lasted a year when she realized that most of her pupils sadly are so accustomed to heartbreaking adversity, they consider their lives quite normal.A blend of fantasy, reality and heartwarming genius, here is a sample of Naomi's mental meanderings and the wonderful writing of Creech:"I had big thoughts to match the big wind. I wondered if we find the people we need when we need them. I wondered if we attract our future by some sort of invisible force, or if we are drawn to it by a similar force. I felt I was turning a corner and that change was afoot."Change did happen one day when a young boy named Finn drops from a tree. Trying to decide if he is dead or alive, of this world, or from another, both Naomi and Lizzie are drawn to Finn, who is about to set the town upside down.Quite unexpectedly they learn the power of family, of friendship and love.Highly recommended with fingers crossed that Creech obtains yet another well-deserved Newbery award.4.5 stars
Review by agrudzien
16/06/2015
Naomi and her friend Lizzie live in Blackbird Tree and life is fairly normal for these two foster girls until one day a mysterious boy drops out of a tree and into their lives. After he arrives, strange coincidences happen and Naomi starts to get the feeling that everything is connected and all things happen for a reason. Told from two points of view: Naomi's and Mrs. Kavanagh, the reader must decide how the two are connected, and if it is a positive connection or one that will cause trouble for Naomi. This book was weird...not just Sharon Creech interestingly odd, but weird. I had a difficult time figuring out how all the bits of the story fit together. Eventually it was explained, and although I did like all the connections once it was all laid out, it just took way too long. I also had a hard time with the voice the reader chose for the sidekick in the audio version - it got on my nerves, which could have swayed me more towards the dislike I feel instead of the apathy that may have been :)