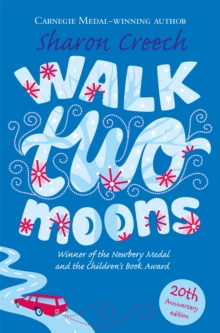 Description
Don't judge a man until you've walked two moons in his moccasins.
What is the meaning of this strange message left on the doorstep?
Only Sal knows, and on a roadtrip with her grandparents she tells the bizarre tale of Phoebe Winterbottom, Phoebe's disappearing mother and the lunatic.
But who can help Sal make sense of the mystery that surrounds her own story . . . and her own missing mother?
Information
Format: Paperback
Pages: 256 pages
Publisher: Pan Macmillan
Publication Date: 01/05/2001
Category: General
ISBN: 9780330397834
Free Home Delivery
on all orders
Pick up orders
from local bookshops
Reviews
Showing 1 - 5 of 7 reviews.
Previous | Next
Review by CatheOlson
16/06/2015
Another awesome book by Creech. In this book, a 13-yo girl is traveling across the country with her grandparents to find her mom who abandoned the family sometime before. As they travel, she tells them the story of her best friend Phoebe which also ends up being her story as well. Very sad and good book.
Review by chelsiking
16/06/2015
After the painful experience Sal had when her mother left & didn't come back, Sal's grandmother decides to take a trip in hopes of retracing Sal's mother's steps. The trip turns out to be a lot more meaningful then just a car ride to try to find Sal's mother. Sal opens up & begins remembering her friend Phoebe whose mother also left their home suddenly & didn't come back.
Review by PatsyAdams
16/06/2015
Grade: 5-6Genre: FictionThemes: Divorce, death, familyI have been wanting to read this book for a few years and finally I did. It was nothing like what I thought it wold be. I looked at the title and the cover and figured it was a Native American story, but it is not. It is a great story about a girl in search of her mother. Salamanca is traveling to see her mother with her grandparents. It will take six days to travel to her mom and Sal needs to get there by her mother's birthday. To pass the time Sal tells her grandparents Phoebe's story. Phoebe is a friend of Sal's and the story is about how Pheobe's mom also left and how she makes it back home. This story is full of humor, mystery, saddness and it has an ending that I never saw coming until I read it and was blown away. It is a great book. i know in my school every 5th grader reads this story. I know that we should give kids choice, but I kind of agree with this view. I truly believe that every child should have the opportunity to read a book that's ending is so unpredictable. Just reading this book, makes me want to read more books because if one story can trick me there must be others that can as well. I might use this at the beginning of the school year and then have recommend books that have surprise endings like this based on that element. Also what a great book to have discussions about grandparents, family, moving on after a family member has left.
Review by boppisces
16/06/2015
Thirteen-year-old Salamanca Tree Hiddle's mother has left home and is unlikely to return. She is also upset because her father has rented out their farm in Kentucky and moved them to Ohio. Salamanca follows in her mother's footsteps during a six day car journey with her eccentric grandparents from Ohio to Idaho. To pass the time she tells them a story about her friend, Phoebe Winterbottom, whose mother vanished and who received secret messages after her disappearance. During the retelling of this parallel story, Salamanca draws strength from her Native American ancestry, and is eventually able to face the truth about her mother. This is a teenage story of love and loss. There is a feeling of suspense running throughout as the reader tries to make sense of what happened to Salamanca's mother and the impact this has had upon her as well as the great upheaval of moving to a new town. A great read it takes the reader through a journey of grief and the bewilderment of losing a parent. Recommended.
Review by landism
16/06/2015
Walk Two Moons is one of my favorite children's books! Sal is a thirteen year old girl who moves with her father from Kentucky to Ohio. At her new middle school, she meets Phoebe. A significant portion of Walk Two Moons involves Sal telling her grandparents the story of Phoebe and her family, but Sal also has a story of her own to tell. This realistic fiction/mystery book is appropriate for fourth-eighth graders. In fact, I could see using this book as a Literature Circle book because it deals with complex ideas (like love and grief) that could generate a lot of thoughtful conversation. Walk Two Moons also has quite a few beautiful passages, particularly at the end of the book, which could be used when teaching young students about creative writing.