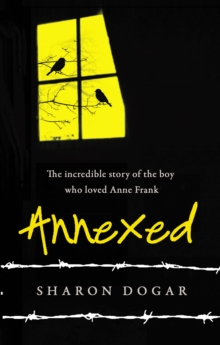 Description
Everyone knows about Anne Frank, and her life hidden in the secret annexe - or do they?
Peter van Pels and his family are locked away with the Franks too, and Peter sees it all differently.
What is it like to be forced into hiding with Anne Frank, to hate her and then find yourself falling in love with her?
To know you're being written about in her diary, day after day? And, what's it like to sit and wait and watch whilst others die, and you wish you were fighting?
Anne's diary ends on August 4 1944, but Peter's story takes us on, beyond their betrayal and into the Nazi death camps.
He details with accuracy, clarity and compassion, the reality of day to day survival in Auschwitz - and the terrible conclusion.
Information
Format: Hardback
Pages: 320 pages
Publisher: Andersen Press Ltd
Publication Date: 01/09/2010
Category: Historical
ISBN: 9781849391245
Other Formats
Paperback from £6.55
EPUB from £3.99
Free Home Delivery
on all orders
Pick up orders
from local bookshops
Reviews
Showing 1 - 1 of 1 reviews.
Review by elliepotten
16/06/2015
"Will we be imaginary one day? Will we be just like one of Anne's stories? Or worse, will the story that survives be the Nazi one - that we were only ever good enough to be wiped out. How? How could anybody do this?"I didn't know quite what to expect from this novel. The Diary of a Young Girl is one of my favourite books of all time, so the idea of a novelisation of the same events was simultaneously exciting and just a little bit worrying. Happily - and to my great relief - I found that for the most part, Dogar's endeavour manages to walk the fine line between 'respectful tribute' and 'artistic license' quite successfully!The book is written from the point of view of Peter van Pels, the teenage son of the family in hiding with the Franks. It begins with Peter watching his (entirely fictional) girlfriend Liese and her family being rounded up and driven away. He can only stand in the road in despair. He makes his way reluctantly to the warehouse to join the Frank family - and his first impressions don't exactly fill him with joy... But slowly he adapts to life in the annexe, finds a new strength he didn't know he had, and begins an odd flirtation with livewire Anne. This romantic element seems to be the main issue for many of the novel's detractors, but actually I found it quite subtle and entirely plausible. In such a confined space, with hormones raging and very little to engage their attention elsewhere, I found it completely believable that precocious young Anne could set her sights on Peter - and that he might feel extremely conflicted about it, but also tempted by her quick wit and cheerful charm. I occasionally found Peter's narrative a little self-conscious and slow, even manipulative at times, and it didn't have all the little details about daily life that made Anne's journal really come alive, but I still enjoyed it! I thought Dogar's depiction of the various characters living in the annexe was spot-on, and she captured the experience of a frustrated teenage boy rather well. Unlike Anne's iconic diary, which obviously ended just before the annexe's occupants were found and taken away, Dogar extends her novel right through to Auschwitz and beyond - and this is where I thought she really excelled. Peter's whole narrative is precipitated by his flood of memories as he lies in the sick bay at Mauthausen, deliriously waiting for the call to wake up and start another day in hell. Between chapters there are occasional interjections from the dying boy to remind the reader that this is not going to end well. After they are captured Peter describes the horrendous train journey out of Amsterdam, the separation from his mother and the Frank women, how he learned to survive in the camps, and how he lost his father to the gas chambers. I could barely read the last twenty pages or so, I was crying so hard. At the end of the day, it may be uncomfortable reading but I don't think we can ever remind ourselves too often of the evil that humanity has perpetuated in the past, especially when hatred and ignorance are still used as excuses to inflict pain on minority groups today. It really is well worth a read, whether you're already familiar with The Diary of a Young Girl or not, and I think it would make fantastic supplementary material for a high school project, for example. Dogar includes a brief epilogue at the end of the book explaining where and how each of the characters died, as well as a short bibliography which includes seminal works of Holocaust literature like Primo Levi's If This is a Man and Elie Wiesel's Night. Recommended.