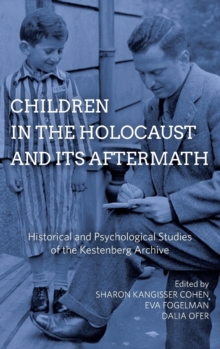 Children in the Holocaust and its Aftermath : Historical and Psychological Studies of the Kestenberg Archive
Hardback
Description
The testimonies of individuals who survived the Holocaust as children pose distinct emotional and intellectual challenges for researchers: as now-adult interviewees recall profound childhood experiences of suffering and persecution, they also invoke their own historical awareness and memories of their postwar lives, requiring readers to follow simultaneous, disparate narratives.
This interdisciplinary volume brings together historians, psychologists, and other scholars to explore child survivors' accounts.
With a central focus on the Kestenberg Holocaust Child Survivor Archive's over 1,500 testimonies, it not only enlarges our understanding of the Holocaust empirically but illuminates the methodological, theoretical, and institutional dimensions of this unique form of historical record.
Information
Format: Hardback
Pages: 276 pages
Publisher: Berghahn Books
Publication Date: 31/01/2017
Category: The Holocaust
ISBN: 9781785334382