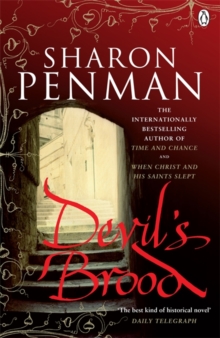 Description
In this gripping tale of passion, politics and conflict, King Henry II finds himself brutally betrayed by his wife Eleanor and three eldest sons when they enter into a rebellion against him.
Aligning themselves with Henry's most bitter enemy, King Louis of France, their treacherous actions will have devastating consequences as they bring about the downfall of a brilliant man and a powerful empire.In Devil's Brood, the compelling story of Henry and Eleanor's once great love affair is explored in an uniquely vivid way.
What twists of fate turn love to hatred? What points of principle and ambition cause these two icons to struggle for power, leaving their family tragically divided and their turbulent marriage finished in all but name?Sharon Penman's glorious trilogy reaches its spellbinding conclusion.
Information
Format: Paperback
Pages: 848 pages
Publisher: Penguin Books Ltd
Publication Date: 01/08/2009
Category: Historical fiction
ISBN: 9780141038551
Free Home Delivery
on all orders
Pick up orders
from local bookshops
Reviews
Showing 1 - 2 of 2 reviews.
Review by john257hopper
16/06/2015
Very good as ever from this author. There are some very emotional episodes, in particular the death of Henry the Young King, though overall I don't think this book has quite the impact as did When Christ and His Saints Slept. It is perhaps overlong and I did get a little tired of endless differing permutations of squabbling brothers, and the extreme stubbornness and control freakery of King Henry (though overall I was more sympathetic towards him than his sons most of the time), and the repetitive behavioural characteristics of the other leading players. But magnificent writing all the same.
Review by cyderry
16/06/2015
And we thought that kids nowadays got into trouble….In this final installment of the story of Henry II and Eleanor of Aquitaine, we are given the account of their four rebellious and ungrateful sons as well as the flawed judgment of the father and mother. Each son (Hal, the young king, Richard - Duke of Aquitaine, Geoffrey, Duke of Brittany, and John) has grievances with the power that King Henry holds on the regions of his kingdom. Each wants the reins to be slackened and the management to be theirs but Henry cannot give up his domination over the lands and the brothers join together to wrest control away.Normally in a story of this type there are heroes and villains, but not so here, probably because it is based on truth. We are dealing with flawed humans who not always are thinking or acting clearly but are passionate in their desires, selfish, exercising poor judgment or no judgment at all.Henry could not understand why his sons would be so ungrateful as to rebel against his authority. He did not feel that they were mature enough to handle the reins of power, however, when they cited his experiences at the same age, he could not justify his delays to them. Henry's issues appeared to be with trust throughout his life - his father trusted him at an early age, but he could not trust his sons which only brought about the rebellions that repeatedly threatened his kingdom and his life. He could forgive many of those involved in the rebellion but the betrayal of his Queen Eleanor was the wound that he could not heal which only drove his sons farther away.Not only is the reader treated to the historical accounts of the events of the reign of Henry II but we are also shown the driving forces of the other 2 sons - Hal, the young King, and Geoffrey the Duke of Brittany - who did not live to wear the crown of England. We know of Richard the Lionheart as well as evil King John, but rarely are we treated to such a personal look at the other two sons who frequently were in the forefront of the rebellions and the reasoning that drove the battles between father and sons.The characters were brought to life so thoroughly on these pages that often I wanted to shake a few and say, what are you thinking? No matter what, the historical events of the 12th century depicted throughout this meticulously researched book, are woven spectacularly into a tale of a dysfunctional family worthy of 21st century reality TV.