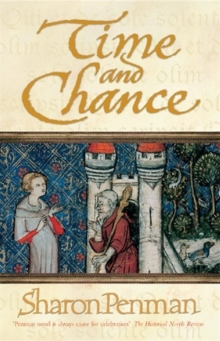 Time and Chance
Paperback
Description
TIME AND CHANCE, the second part of the trilogy about Henry II and Eleanor of Aquitaine, opens during the glory years of their reign.
While Henry redefined the role of medieval kingship, Eleanor gave birth to their children, founding a dynasty that would endure for 300 years.
But even in these happy times, shadows were lurking.
Battles on two borders. The disastrous appointment of Thomas Becket as Archbishop of Canterbury. And when Henry took lovely young Rosumund Clifford into his bed, little did he realise that in making an enemy of his proud, passionate queen he was making the gravest mistake of all ...
Information
Format: Paperback
Pages: 496 pages
Publisher: Penguin Books Ltd
Publication Date: 24/04/2003
Category: Sagas
ISBN: 9780140270778
Free Home Delivery
on all orders
Pick up orders
from local bookshops
Reviews
Showing 1 - 4 of 4 reviews.
Review by nellista
16/06/2015
Reading a Penman novel is for me like watching a movie played out in your mind. It all feels so very real. I had read the previous book in the trilogy, While Christ and His Saints Slept, about 4 years ago, and I was a little concerned about how I was going to pick up the action, but it was like meeting old friends. In this book, we see the struggles between Henry II and Thomas Becket, the start of the division between Henry and Eleanor, and strife in Wales that predates SKP's Welsh trilogy marvelously. After reading this, I know that The Devil's Brood is going to be a action packed read, and I won't be waiting too long to dive into that!
Review by aapjebaapje
16/06/2015
1156-1171. Only a few years but sufficient to cover the deterioration of Henry's relationship with Thomas Beckett, with his queen, Eleanor and carrying the theme on, with his fictional uncle Ranulf. Unfortunately I kept waiting for Beckett to be murdered – a little learning is a dangerous thing. Penman writes somewhere between novel and a history book. I felt like I'd had a history lesson where all the characters were real people rather than two-dimensional figures from a by-gone age but a history lesson all the same.
Review by emmakendon
16/06/2015
Penman nearly up to Sunne in Splendour quality.
Review by Pondlife
16/06/2015
Another good and readable chunk of English and Welsh history, covering the period from 1156 to 1171, when Henry II was King of England.I'd read "When Christ and His Saints Slept" several years before reading this, so I was familiar with the background and some of the characters.My main criticisms of this are the use of fictional characters like Ranulf, although I can see why SKP found this necessary; and that sometimes it feels like she puts words in people's mouths that they would never really have said.Having said that, I found this a good and readable account of an interesting period of English history, with Henry II, the future kings Richard I and John as children, and the Thomas Becket affair and assassination.