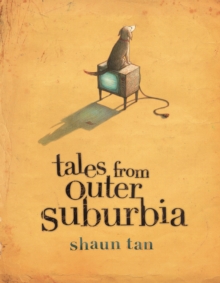 Tales from Outer Suburbia
Hardback
Description
Do you remember the water buffalo at the end of our street, or the deep-sea diver we found near the underpass?
Do you know why dogs bark in the middle of the night?A new picture book from the international award-winning illustrator Shaun Tan, "Tales from Outer Suburbia" is a unique and inspiring collection of original stories and illustrations.Shaun Tan, creator of "The Arrival", "The Lost Thing" and "The Red Tree", reveals the quiet mysteries of everyday life: homemade pets, dangerous weddings, and secret rooms filled with darkness and delight!
Information
Format: Hardback
Pages: 96 pages
Publisher: Templar Publishing
Publication Date: 02/03/2009
Category: Picture books
ISBN: 9781840113136
Free Home Delivery
on all orders
Pick up orders
from local bookshops
Reviews
Showing 1 - 5 of 5 reviews.
Review by booksbooks11
16/06/2015
So enjoying this utterly adorable and heart warming book, and loving sharing it with 9 year old daughter. She likes the "how to make a pet", I love the poetry lost and found again. Beautifully put together with the most wonderful illustrations and warm quirky stories.
Review by wandering_star
16/06/2015
This is a collection of tiny, surreal stories, beautifully illustrated. Both the words and the pictures are delightful, although the stories have a deep emotional undertow. Each story is illustrated in a different style - for example, a piece about what happens to poems which are written but never shown to anyone is told on tiny scraps of paper, piled on top of each other.They are a little bit like modern fairytales, but I'm surprised that it's often tagged as a children's book - admittedly, I know no-one between the ages of 5 and 20, but I wouldn't have thought that a child would really be able to understand what the stories are saying about human nature - the emotional undertow I mentioned - and without that, wouldn't the surreality just be puzzling?
Review by miki
16/06/2015
In the 48 hours after receiving this book, not only did I devour it myself and share it with two friends, I even showed it to random people on the bus. Every single one was blown away by how amazing this book is -- regardless of the fact that it is "technically" being marketed to youth and teens, adults were every bit as in love with this book of short stories, illustrations, and all sorts of cool bits in between. I don't know that there's any single "genre" you could label this book as -- it has pieces of magical realism, urban fantasy, and slipstream, whereas other parts seem straight out of literary fiction, and the next page seems part of a graphic novel.The stories are not only quirky, thought-provoking, and creative, but they also touch a deep emotional note -- everyone I've shown this book came across at least one story in it that really touched them to the core. The great thing from my perspective is that it's not like it's just one amazing story that is blowing everyone away -- each person seems to find something different in the book to latch onto. The illustrations are equally awesome; after my first read through the book, I spent awhile just really "reading" the illustrations in depth -- there's just so much there to see and think about.And as a book geek, I also have to say that the design of the book itself is awesome, and really helps it pull together as a complete experience, from cover to cover.
Review by elmyra
16/06/2015
Magical. Bechdel: Pass (No Other Country)
Review by SandDune
16/06/2015
A surreal collection of stories written and illustrated by Shaun Tan, who has become one of my favourite author-illustrators of children's books. All 15 stories have a magical and whimsical quality which can equally be appreciated by adults as well children. From 'Eric', the story of the very unusual exchange student who leaves a wonderful present in his host family's pantry, to 'Our Expedition', where brothers discover that the world really does come to an end where their father's roadmap come to an end, to 'Distant Rain', which tells the story of what happens to all the unread poetry in the world - all are thought provoking and beautifully illustrated. In Shaun Tan's eyes suburbia is a strange and wonderful place.