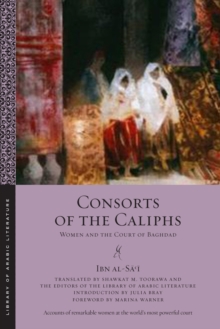 Consorts of the Caliphs : Women and the Court of Baghdad
Paperback / softback
Description
Accounts of remarkable women at the world's most powerful court Consorts of the Caliphs is a seventh/thirteenth-century compilation ofanecdotes about thirty-eight women who were consorts to those in power, most ofthem concubines of the early Abbasid caliphs and wives of latter-day caliphsand sultans.
This slim but illuminating volume is one of the few survivingtexts by the prolific Baghdadi scholar Ibn al-Sa'i,who chronicled the academic and political elites of his city in the final yearsof the Abbasid dynasty and the period following the cataclysmic Mongol invasionof 656 H/1258 AD. In this work, Ibn al-Sa'i is keen toforge a connection between the munificent wives of his time and the storiedlovers of the so-called golden age of Baghdad.
Thus, from the earlier period,we find Harun al-Rashid pining for his brother's beautiful slave, Ghadir, andthe artistry of such musical and literary celebrities as Arib and Fadl, whobested the male poets and singers of their day.
From times closer to Ibn al-Sa?i's own, wemeet women such as Banafsha, who endowed law colleges, had bridges built, andprovisioned pilgrims bound for Mecca; slave women whose funeral services wereled by caliphs; and noble Saljuq princesses from Afghanistan. Informed by the author's own sources, hisinsider knowledge, and well-known literary materials, these singularbiographical sketches bring the belletristic culture of the Baghdad court to life,particularly in the personal narratives and poetry of culture heroinesotherwise lost to history.
Information
Format: Paperback / softback
Pages: 176 pages
Publisher: New York University Press
Publication Date: 05/09/2017
Category: Middle Eastern history
ISBN: 9781479866793
Free Home Delivery
on all orders
Pick up orders
from local bookshops
Also in the Library of Arabic Literature series | View all