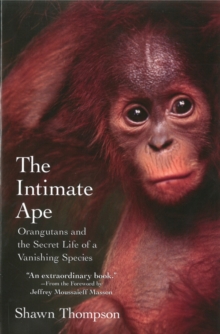 The Intimate Ape : Orangutans Amd the Secret Life of a Vanishing Species
Paperback
Information
Format: Paperback
Pages: 292 pages
Publisher: Citadel Press Inc.,U.S.
Publication Date: 01/03/2010
Category: Primates
ISBN: 9780806531335
Free Home Delivery
on all orders
Pick up orders
from local bookshops
Reviews
Showing 1 - 5 of 7 reviews.
Previous | Next
Review by biblioholic29
16/06/2015
'I need to see the Orangutans!' The entire time I was reading this book, I couldn't help thinking about the story my mother tells of taking her then 2 or 3-year-old nephew to the zoo, where his constant refrain was 'I need to see the Orangutans!' It's a sentiment many of the people featured in The Intimate Ape would certainly understand.Shawn Thompson has created a beautiful book that's not just about Orangutans, but about humanity as well. As he visits zoos, rescue centers and orangutan experts he begins to realize how much we can learn about ourselves by observing Orangutans. Each of his experts has their own ideas of the best way to interact with and rehabilitate Orangutans, but the passion of each for what they are doing the species they have chosen to focus on is evident.The book itself is not told chronologically. Although Thompson begins by talking about his first trip to Borneo, he jumps around in time quickly and often, which was a bit jarring at first. I soon got used to the lack of a discernible timeline as the stories Thompson told took hold of me.Each chapter has a theme; culture, gender and conservation to name a few, and in general each chapter focuses the interviews and time spent with one or two Orangutan experts. Thompson's research was thorough and its obvious that it quickly became more than just a book to him.The book itself is well written, I never found myself bored and I read it in one day. I found myself alternately laughing and crying as I read about the lives and antics of these amazing creatures. The main message of the book came out loud and clear, Orangutans are disappearing and to see them gone would truly be a tragedy. Conservation is key and in the resources appendix, Thompson gives us some ideas of how to help.'I need to see the Orangutans!' Don't we all.
Review by NeverStopTrying
16/06/2015
Judging by his tone and writing style, Shawn Thompson intended <b>The Intimate Ape: Orangutans and the Secret Life of a Vanishing Species</b> to reach out to ordinary non-fiction readers and make orangutans important and real to them. The heart of Thompson's argument is that, at a fundamental level, orangutans are persons: they reason, they solve problems, they remember, they retain personal relationships over time, they experience emotion. This being the case, how orangutans are treated, what is happening to the areas they need to live and the near certainty of their eventual disappearance is beyond criminal, it is immoral and tragic.Thompson presented this argument in a highly personal manner, by recounting his own experiences traveling to the places where orangutans are studied, staying there for extended and repeated periods to observe, and interviewing the individuals engaged in the struggle to save individual orangutan lives. He did not present much information on who is engaged in the struggle to save the species or what that work entails.I wanted to like this book, and I certainly believed his central argument before I ever picked it up. Sadly, I found the author's tone somewhat juvenile and his narrative somewhat self-absorbed. I liked best the sections where he was most transparent. I don't regret having read the book because I now know more than I did before about some of the work that has been and is being done, and by whom, but I cannot strongly recommend it for its own sake.
Review by chopper481
16/06/2015
Like many others before me, I was disappointed with this book. I was hoping, as an animal fanatic, to be able to learn more about a species that I have not deeply looked into than I did. I normally don't read nonfiction, however, so my review may not "count" as much as others'.I already knew about several of the people who were mentioned quite a bit in the book from school, and while I extended my knowledge of them by a bit, I really didn't learn much new about orangutans. I see that this book has failed somewhat in its purpose, educating the reader about the orangutans, but not completely. There was interesting material.Sad to say, I don't think that I will be picking this up again to read.
Review by labfs39
16/06/2015
Disappointingly, this is not a book about orangutans, but a book about the people who study orangutans. The author, although passionate about his subject, is not a scientist or even a particularly good observer of apes on his travels. Instead, he travels the world to talk to the people who do or have in the past worked with apes, either in captivity or in the wild. The result is third person accounts of interactions with orangs or more broadly with the jungle itself. It's easy to see that the author admires these "do-ers", but does little himself, other than recount biographies and slip in little diatribes about human "savages" and the decline of the world as we know it. In addition, I felt that the author could have benefitted from more vigorous editing and a professional photographer.
Review by Crowyhead
16/06/2015
It would have been nice if this actually lived up to its subtitle: Orangutans and the Secret Life of a Vanishing Species. The reader learns very little about the "secret life" of orangutans; instead, nearly all the orangutans described in the book are those that reside in zoos or are being rehabilitated and have had extensive contact with humans.This doesn't make the orangutans described any less fascinating, when Thompson actually spends time describing them instead of dwelling on his own reactions and pontificating on how much human beings have destroyed in this world. Much of the book is also spent describing the experiences of individuals who have studied orangutans, which is interesting, but again, is not exactly in keeping with the way the book was billed.Thompson's writing style also got on my nerves really badly. Just one example of the typical style: "They are an interesting pair. He, very much the man. Tall, handsome, rugged. She, very much the woman. Smart, beautiful, rugged. Together, very much the couple." Phrasing like this shows up repeatedly, and made grind my teeth together. Thompson also struck me as taking what must have been intensely frustrating liberties; at one point, he brings a French horn player all the way from Canada to Camp Leakey in Borneo, apparently (if he did, it is not mentioned) without securing the permission of those who work and run the camp, because he wants to see how the orangutans react to the music. The overall impression is of someone who has good intentions but is not approaching his subject with very much organization or intellectual rigor.I was disappointed that I didn't like this book better, because I really wanted to learn more about orangutans (both in the wild and in captivity), what their lives are like, the ways they learn. This was not the right book for that.
Also by Shawn Thompson