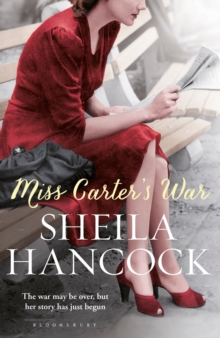 Miss Carter's War
Paperback
Description
It is 1948 and the young and beautiful Marguerite Carter has lost her parents and survived a terrifying war, working for the SOE behind enemy lines.
She returns to England to be one of the first women to receive a degree from the University of Cambridge.
Now she pins back her unruly auburn curls, draws a pencil seam up her legs, ties the laces on her sensible black shoes, and sets out towards her future as an English teacher in a girls' grammar school.
Outside the classroom Britain is changing fast, and Miss Carter finds herself caught up in social upheaval, swept in and out of love and forging deep, enduring friendships.
Information
Format: Paperback
Pages: 432 pages
Publisher: Bloomsbury Publishing PLC
Publication Date: 01/01/2015
ISBN: 9781408843604
Free Home Delivery
on all orders
Pick up orders
from local bookshops
Reviews
Showing 1 - 1 of 1 reviews.
Review by AdonisGuilfoyle
16/06/2015
A potted history of post-war Britain in fictional form, actress Sheila Hancock's novel about crusading schoolteacher Marguerite Carter is a good read, but could have been so much better. From the blurb, I was expecting more about Marguerite's wartime service in France as an agent for the SOE, which actually comes towards the end of the book, rather than a hop, skip and jump through the decades, from the late 40s to early 2000s. Marguerite moves to London to teach, first at a grammar school and then one of those new-fangled comprehensives, forming a lifelong friendship with a gay colleague and inspiring countless children with a love of poetry. I could cheerfully have smacked her. Thanks to Sheila Hancock's copious historical reminiscences/research, Marguerite never develops from a literary device into a fully fledged character; instead, she remains an idealistic mash-up of Mr Chips and Mary Poppins. Marguerite marches on Aldermaston, gets her hair styled by Vidal Sassoon, votes for Margaret Thatcher, loses a friend to AIDs, gets older, and eventually comes full circle. Lots of doom, gloom and social commentary, but more history than story.