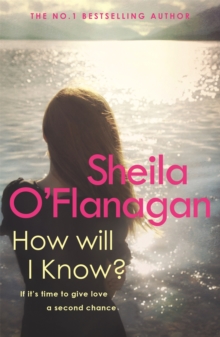 How Will I Know?
Paperback
Description
Sheila O'Flanagan's bestselling HOW WILL I KNOW? is a heart-wrenching and life-affirming read that should not be missed by readers of Marian Keyes and Freya North.
It was love at first sight for Claire and Bill Hudson.
They met at Claire's fifth birthday party and they were destined to be together for the rest of their lives.
When baby Georgia came along, it was the icing on the cake.
So when a tragic accident snatched Bill away, Claire felt like she'd lost everything - except Georgia.
In the three years since, Claire has devoted her life to Georgia; she knows no man could ever replace Bill, and the child needs her all her attention.
Now Georgia's a teenager, though, and there's one thing Claire can't advise her on: dating. And so, purely to help her lovely young daughter in her journey through the teenage years, Claire sets out on some serial dating. And destiny is watching, again...
Information
Format: Paperback
Pages: 496 pages
Publisher: Headline Publishing Group
Publication Date: 15/04/2006
ISBN: 9780755307593
Free Home Delivery
on all orders
Pick up orders
from local bookshops
Reviews
Showing 1 - 2 of 2 reviews.
Review by Summermoonstone
16/06/2015
I really loved this book. The characters we real and even though it was all pretty obvious the book was funny and poignant. The "How Will I Know" was because she was widowed and suddenly out of her depth with a teenage daughter. It all worked out in the end but as Marian Keys says "what is wrong with a happy ending" Just fun - easy to read - and by the end you feel as if you know a lot more people. It was the first book I had read by Shiela O'Flanagan but I shall certainly read more - just something light for sunny (or rainy day)
Review by AnneBrooke
27/08/2015
This is a prime example of a book that rather outstays its welcome. I enjoyed the story of how Claire picks her life up again three years after the sudden and tragic death of her husband, but it didn't particularly grip me, and it went on for too long in the end. The loss of 100 pages or so would have made it a sharper and more interesting novel. And losing those pages would have meant the badly written and unbelievable scene in the art gallery would thankfully have vanished …That said, it's a light and easy read, though it's certainly not top notch O'Flanagan. She's written better stories. The problems for me were the rather irritating perfection of the dead husband, as I simply didn't believe they were soulmates from the age of 14 and our heroine never needed to explain things to him as he was so in tune with her. Harrumph! It all sounds very unlikely to me. I also didn't really get any spark between the heroine and her new potential boyfriend. Yes, they get together in the end (after a fashion), as you'd expect in a romance novel, but I wasn't that bothered about them.I was far more gripped by the story of Eavan, the best friend, and her husband, and how they deal with living with alcoholism and redundancy. It was far more interesting, and with a better plot line. I also loved Claire's daughter, Georgia, and felt she deserved her own stand-alone novel for sure. The scene where she's far more aware of dating etiquette than her mother was expertly done.So, all in all, not vintage O'Flanagan but, as I say, it's easy reading.Verdict: 3 stars. A welcome outstayed.