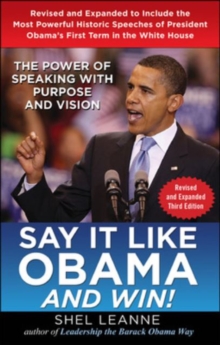 Say it Like Obama and Win!: The Power of Speaking with Purpose and Vision, Revised and Expanded Third Edition
Hardback
Description
Updated to include speeches on the death of bin Laden, the Arab Spring, and other historic moments on the podiumIn speech after speech, Barack Obama fires up enthusiastic supporters with his inspiring vision, rousing rhetoric, and charismatic presence.
His outstanding communication skills gave rise to an unprecedentedpolitical movement and launched him to the top of the world political stage. But inspiring and persuading millions isn't simply a product of innate ability.
Barack Obama spent time and effort honing skills that have made him so successful.
These techniques are vital not only in the politicalarena, but also for business executives, managers,and leaders from all walks of life. This book is about the art of persuasion, the power of presentation, and the most effective methods of communication.
From building strong arguments and facing tough issues to inspiring a team or workforce to new levelsof innovation and productivity, Say It Like Obama and Win! gives you the tools to instill positive change at every level of your organization by teaching you how to:Make a strong first impressionUse body language and voiceEstablish common groundGain trust and confi denceWin hearts and mindsDrive your points homeConvey your vision through imagery and words that resonateBuild to a crescendo and leave a lasting impressionWhether you're a manager, an executive, a public speaker, a business owner, or a community leader, Say It Like Obama and Win! provides you with presentation techniques that have inspired and mobilized audiencesof every size.
Free Home Delivery
on all orders
Pick up orders
from local bookshops