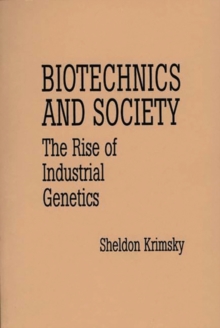 Biotechnics and Society : The Rise of Industrial Genetics
Hardback
Description
Impacts of technological change have historically been assessed only after the passage of a significant period of time.
It is then that historians recreate the decisions that were made, sort out the influencing factors, and debate in hindsight the options that were available at the time.
Sheldon Krimsky, consistent with the importance of his subject, telescopes this process by providing to contemporary readers a broad overview of the first ten years of the industrial revolution in applied molecular genetics.
He discusses the birth and expectations of the biotechnology industry, the response to products of genetic engineering, perspectives on risk assessment from different sectors of the scientific community, and public initiatives to regulate new products.
The author explores the social and political discourse on the direction of biotechnology, and offers the most detailed examination to date of the controversy over the environmental release of genetically engineered organisms.
Finally, he takes a critical look at the conventional role of technology assessment and suggests an alternative model that fits more closely with the needs of an environmentally sensitive world. Krimsky's thought-provoking work offers readers a unique opportunity to understand what questions were being asked, what options were available, and what decisions were being made when the industrial application of genetic technologies was still in its infancy.
His insider's perspective will interest those working in the fields of biology and social issues; science, technology, and society; and the sociology of science.
Challenging, cautioning, and balanced, this book is required reading for all who are seriously concerned with the relationship of emerging technologies to society.
Other Formats
Paperback / softback from £27.59
Free Home Delivery
on all orders
Pick up orders
from local bookshops