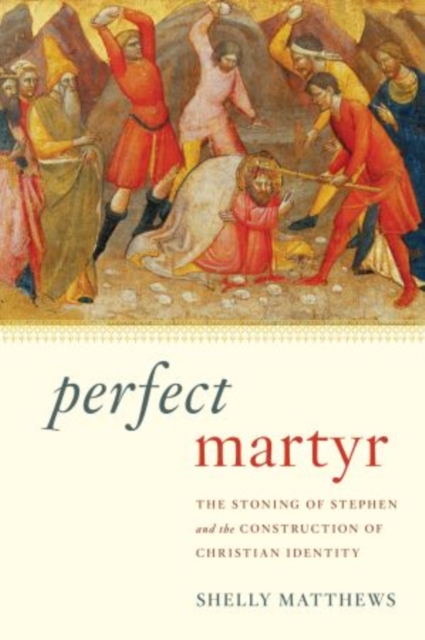 Perfect Martyr : The Stoning of Stephen and the Construction of Christian Identity
Paperback / softback
Description
Recent studies have examined martyrdom as a means of constructing Christian identity, but until now none has focused on Stephen, the first Christian martyr.
For the author of Luke-Acts, the stoning of Stephen-- even more than the death of Jesus-- underscores the perfidy of non-believing Jews, the extravagant mercy of Christians, and the inevitable rift that will develop between these two social groups.
Stephen's dying prayer that his persecutors be forgiven-the prayer for which he is hailed in Christian tradition as the "perfect martyr" plays a crucial role in drawing an unprecedented distinction between Jewish and early Christian identities. Shelly Matthews deftly situates Stephen's story within the emerging discourse of early Christian martyrdom.
Though Stephen is widely acknowledged to be an actual historical figure, Matthews points to his name, his manner of death, and to other signs that his martyrdom was ideally suited to the rhetorical purposes of Acts and its author, Luke: to uphold Roman views of security and respectability, to show non-believing Jews to disadvantage, and to convey that Christianity was an exceptionally merciful religion.
By drawing parallels between Acts and stories of the martyrdom of James, the brother of Jesus, Matthews challenges the coherent canonical narrative of Acts and questions common assumptions about the historicity of Stephen's martyrdom.
She also offers a radical new reading of Stephen's last prayer, showing the complex and sometimes violent effects of its modern interpretations. Perfect Martyr illuminates the Stephen story as never before, offering a deeply nuanced picture of violence, solidarity, and resistance among Jews and early Christians, a key to understanding the early development of a non-Jewish Christian identity, and an innovative reframing of one of the most significant stories in the Bible.
Information
Format:Paperback / softback
Pages:240 pages
Publisher:Oxford University Press Inc
Publication Date:12/07/2012
Category:
ISBN:9780199924653
Information
Format:Paperback / softback
Pages:240 pages
Publisher:Oxford University Press Inc
Publication Date:12/07/2012
Category:
ISBN:9780199924653