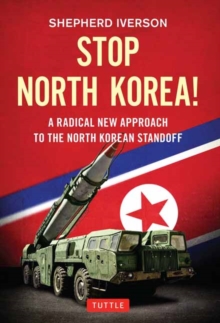 Stop North Korea! : A Radical New Approach to Solving the North Korea Standoff
Hardback
Description
If war can be reduced to a competition over money and control over the land, people, and the resources that produce it then it should be possible to pay in advance to prevent it.
Author Shepherd Iverson uses this underlying premise to provide an alternative to every book written about the North Korean nuclear threat and growing East Asia militarism.
Far less permeable to economic sanctions than Iran has been, North Korea requires a different sort of economic approach to peace.
Taking a cultural as well as a geoeconomic approach, Stop North Korea: A Radical New Approach to Solving the North Korea Standoff proposes that reunification is the best, possibly only, way to denuclearize North Korea, end its government's oppressive regime and create a fruitful, sustainable peace. The book further proposes that the way to achieve reunification is, essentially, to buy it while there is still a chance to prevent war and repair the damage already done. It is business-as-peace-crafting in a way that has never been imagined before.
It all begins with this basic scenario: Imagine that you control a multi-billion dollar capital fund and North Korea is a large underperforming corporation. You see it is undervalued and want to take it over, but it is controlled by an old-fashioned board of directors the Kim family and a small number of ultra-elites who will not negotiate a deal.
In this regressive situation it is logical to offer shareholders the larger number of political and military elites, government managers and bureaucrats, and the general population a higher price for their shares to convince them to overrule their board of directors. How to create and utilize a fund for offering such incentives; how to incentivize a nation that has become culturally ready for this sea change; why these incentives will succeed where coercion and diplomacy have failed; and how they will result in a healthy and prosperous reunified Korea are the brilliantly treated in this fascinating and hopeful work.
Academics and students, strategists, policymakers and anyone interested in the possibility of a peaceful resolution to the North Korea problem should read this book.
Information
Format: Hardback
Pages: 272 pages, 16 pages of full colour
Publisher: Tuttle Publishing
Publication Date: 01/02/2017
Category: Asian history
ISBN: 9780804848596
Free Home Delivery
on all orders
Pick up orders
from local bookshops
Also by Shepherd Iverson