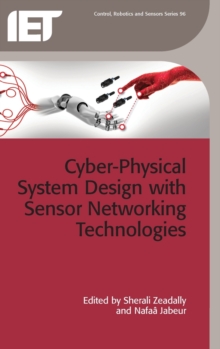 Cyber-Physical System Design with Sensor Networking Technologies
Hardback
Description
This is a book written by leading experts in the fields of cyber-physical systems (CPS) and wireless sensor networks (WSN).
This book describes how wireless sensor networking technologies can help in establishing and maintaining seamless communications between the physical and cyber systems to enable efficient, secure, reliable acquisition, management, and routing of data. Topics covered include: an introduction to WSN and CPS; integration issues and challenges between WSN and CPS; enabling CPS design architectures with WSN technologies; cyber security in CPS; data management in CPS with WSN; routing in WSN for CPS; resource management in CPS; mobile sensors in CPS; intelligent WSN in CPS; resilient WSN for CPS; case studies of integrated WSN and CPS; and medical CPS.
All chapters of the book have been rigorously peer-reviewed.
Cyber-Physical System Design with Sensor Networking Technologies is essential reading for researchers, advanced students and developers working in the areas of cyber-physical systems and sensor networks.
Information
Format: Hardback
Pages: 368 pages
Publisher: Institution of Engineering and Technology
Publication Date: 04/04/2016
Category: Automatic control engineering
ISBN: 9781849198240