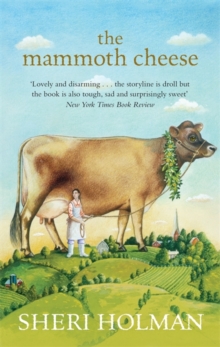 The Mammoth Cheese
Paperback
Description
When Manda Frank gives birth to an astonishing eleven babies, the world descends on her home town of Three Chimneys, Virginia.
Beneath the intense media spotlight the town begins to give up its long-held secrets: from the unrequited love of August Vaughn, the town's avid Thomas Jefferson impersonator, to the more dangerous and subversive passions of Mr March, the local history teacher.
Meanwhile, cheesemaker Margaret Prickett decides to highlight the plight of the rural community by creating 'The Mammoth Cheese' - a 1,235-pound wheel of Cheshire which she plans to parade all the way to Washington - while failing to notice the plight of her own teenage daughter Polly, who is caught up in the dangerous romance of rebellion, and veering precariously towards tragedy...'This panoramic social novel with a needle-sharp point of view sends up both small-town America and politics.
There's mordant social commentary, discussion of Jeffersonian civic ideals and bittersweet romance, plus more than you needed to know about cow midwifery' PEOPLE
Information
Format: Paperback
Pages: 480 pages
Publisher: Little, Brown Book Group
Publication Date: 05/08/2004
ISBN: 9781844081271
Free Home Delivery
on all orders
Pick up orders
from local bookshops
Reviews
Showing 1 - 2 of 2 reviews.
Review by MarianV
16/06/2015
What attracted me to this book was its title. A book about Cheese? i thumbed thru a few paages & found the writing was great. The introduction, where a woman gives birth to 11 babies seemed a bit much, but once the main characters appeared, Margaret, whoe husband has left her but she is still struggling to run their dairy farm the traditional way, Polly, her teen-age daughter who wants to save the farm, but discovers first love with someone completely unsuitable, & August, the only son of a family of preachers who main pleasure in life is to pose as Thomas Jefferson all of whom live in a small town just outside the political whirl of Washington DC. The story is set in the present, as another reviewer pointed out - it could hardly be more present day, and all of our hopes, pleasures & foibles are present with all their consequences, some unintended but all entertaining.
Review by kaionvin
16/06/2015
The Mammoth Cheese is a good illustration of an ambitious mess being more interesting than a safe success. Say what I will about the somewhat long and meandering narrative, Sheri Holman, at the very least, never bores me!In the backdrop of rural Three Chimneys, Virginia, Sheri Holman tackles no less than (and in no particular order): politics and media, the value and drawbacks of tradition and community, and the meaning of "rebellion" in everyday contemporary American life. These themes emerge from a many plot threads concerning various residents of the town, involving, at various points: fertility-drug-induced multiple births, Jefferson impersonators, the Civil War legacy of the South, the 'organic' movement, and cows. Lots of cows. This is a good thing, actually, as Holman's got a great sense of place and fitting her characters to their place. I definitely felt like I knew intimately the ins and outs of independent dairy farming and small-town pastor brownnosing and-- and more simply summarized the burdens of living in a community where tradition is so fatalistic. Her many characters are excellently drawn individually (and I note a particular skill with developing insidiously repellant villains), though she struggles somewhat when they interact.As in The Dress Lodger, Holman's most obvious weakness is the jarring tonal clashes that result when her plot threads finally collide. At these moments of conflict, her authorial voice often slips--here, Margaret's ideals of clean living sometimes become tract rather than commentary-- or the drama of the moment overwhelms logical plot progression (especially noticeable away from the Dickensenian sensibility of Dress Lodger). Yet despite these flaws, the ambition of Holman's undertaking is at times breathlessly exciting, and her patience pace yields moments of real dividends. I'll definitely by following what Holman writes next.
Also by Sheri Holman