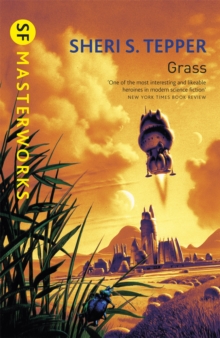 Description
What could be more commonplace than grass, or a world covered over all its surface with a wind-whipped ocean of grass?
But the planet Grass conceals horrifying secrets within its endless pastures. And as an incurable plague attacks all inhabited planets but this one, the prairie-like Grass begins to reveal these secrets - and nothing will ever be the same again ...
Information
Format: Paperback
Pages: 544 pages
Publisher: Orion Publishing Co
Publication Date: 01/02/2002
Category: Science fiction
ISBN: 9781857987980
Free Home Delivery
on all orders
Pick up orders
from local bookshops
Reviews
Showing 1 - 5 of 10 reviews.
Previous | Next
Review by hrissliss
16/06/2015
Beautiful prose - I see now, after reading this book, why Sheri S. Tepper is popular. I've only read "Beauty" by her previously, and thought she was a bit too preachy for my tastes. While "Grass" still has elements of the overtly moral to it, she manages to smoothly integrate it into plotlines and characterizations, instead of wandering into digressive internal monologues in order to prove a point. She creates rather interesting characters - my only objection was the unnatural frequency with which people became enamored of the main character, Marjorie. But even these were kept to the background, and so weren't very distracting or irritating. Tepper's also a very good hand at world building. The worlds she creates are believable and unique, without relying too much on fantasy cliches and misunderstandings. I especially liked what she did with religion. 9/10
Review by AnnaOok
16/06/2015
IIRC, I totally hated this while reading it, and came away from the experience feeling somewhat dirty and feeling that this author's mind is not a place where I want to be. I read it a while ago so I don't remember the details: take this with a lot of salt.
Review by SanyaWeathers
16/06/2015
A dark story that started simply with the merest of hints as to underlying depth, and rapidly gained momentum. The central character is flawed and complex, and will feel familiar to many women. This was my first exposure to Sheri Tepper, and my first exposure to feminist fiction that didn't club me with THE MESSAGE as if I were a baby seal. I consider myself to be a well-read feminist with my consciousness raised as high as it can go, but after digesting this novel, I found myself reexamining a number of assumptions I hadn't even known I'd made.
Review by fishoutoforder
16/06/2015
One of my favourite books of all time. The plot and characters are unforgettable.
Review by ropie
16/06/2015
For such a long novel Tepper's 'Grass' kept me reading at a rate that meant I had finished it within one week. It was a truly fascinating set up - the mysterious and beautifully portrayed planet of Grass, the eccentric and demonized ruling classes, the enigmatic and dangerous local fauna, all wrapped up in a plot involving an interstellar virus and religious extremism.Really this book has everything going for it and in the way that LeGuin manages in 'The Left Hand of Darkness', Tepper effortlessly combines the cerebral with high action and drama. I can't think of any other writers who manage this as well as these two.But, and depending on your point of view it's potentially a deal-breaker, the ending is just utterly banal. Not the *final* ending (as there is a sort of epilogue) but the *first* ending. After chapter upon chapter of stunning writing, the wrapping up and conclusion of these important affairs is quickly attained within a couple of shoddily written pages involving some equations and a bit of luck. I wasn't impressed at all. As I have mentioned though, the 'epilogue' helps to appease things somewhat and leaves things wide open for our heroine to continue her adventures (this is the first book of a loose trilogy after all).Not counting the miserable ending, a fine, fine read and definitely a writer I will be looking up again in the future.
Also in the S.F. Masterworks series | View all