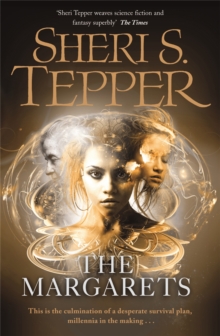 Description
Earth is in crisis, virtually destroyed by overpopulation, and mankind is teethering on the edge.
ISTO - the Interstellar Trade Organization - had demanded man's extinction, for a living planet is more important than any race upon it, and was about to start 'reducing' mankind when Earthgov agreed its demands, to sell 90 per cent of Earth's inhabitants into bondage to alien races.When Margaret is six, she imagines herself as a spy, a healer, a queen, a warrior, even a boy, to amuse herself; when she is nine, and 12, and 20, at crisis points in her life, she feels like parts of her have split off - like the Margaret who decided to follow her lover to Tercis and the Margaret who said no.So now, as well as Margaret, she is Wilvia, learning to be a queen on B'yurngrad, and Ongamar, a spy on Cantardene, and Gretamara, a healer on Chottem, and even Naumi, a boy on Thairy, and she is many other Margarets besides.And all these Margarets hold the key to mankind's survival, if only they can survive and come together again as one Margaret, with all their different powers intact ...
Information
Format: Paperback
Pages: 528 pages
Publisher: Orion Publishing Co
Publication Date: 01/03/2009
Category: Science fiction
ISBN: 9780575083486
Free Home Delivery
on all orders
Pick up orders
from local bookshops
Reviews
Showing 1 - 1 of 1 reviews.
Review by hashford
16/06/2015
Set in a dystopian future where mankind has completely filled the Earth, destroying virtually all other life on the planet, Margaret's consciousness splits off at critical moments in her life to create 7 parallel Margarets all living completely separate lives. The entire Earth is at breaking point. We desperately need to trade with alien cultures to obtain raw materials such as water – and the only thing we have in abundance is people. So one of the Margarets is sold as a slave, others leave Earth to become settlers, workers and translators on other planets. Eventually they must come together to solve the riddle, with help from various mysterious friends, in order to reach the mythical Keeper and request a boon which will save all of mankind.I loved this book! The story is quite difficult to follow and it can feel disjointed as the narrative jumps from one Margaret to another – so it is not for the faint-hearted! But it contains powerful messages about law and justice, slavery, environmental destruction and the nature of good and evil, all woven into a compelling story line and set in richly imagined alien worlds. One of Tepper's best!
Also in the Gollancz S.F. series | View all