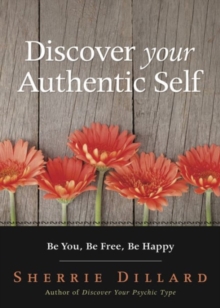 Discover Your Authentic Self : Be You, be Free,be Happy
Paperback / softback
Description
Embrace your authentic self and learn to live on your own terms with guidance from 150 lessons meant to inspire, motivate, and teach.
This empowering book helps you shed what is false and come to know, accept, and express your true self. With essays to uplift and engage you through personal stories, meditations, exercises, affirmations, and question prompts, Discover Your Authentic Self shows you how to live more fully and according to your passions.
You'll explore a range of topics for self-discovery, including intuition, spiritual guidance, spirit animals, spirit essence and energy (chakras and auras), recognizing personal abilities according to archetype, living your purpose, and more.
Use this remarkable book to unlock your truth and set yourself free.
Information
Format: Paperback / softback
Pages: 336 pages
Publisher: Llewellyn Publications,U.S.
Publication Date: 01/07/2016
Category: Mind, Body, Spirit
ISBN: 9780738746401