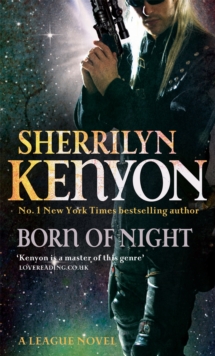 Born Of Night : Number 1 in series
Paperback
Part of the League series
Description
Command Assassin Nykyrian Quiakides once turned his back on the League - and has been hunted by them ever since.
Though many have tried, none can kill him or stop him from completing his current mission: to protect Kiara Zamir, a woman whose father's political alliance has made her a target.As her world becomes even deadlier, Kiara must entrust her life to the same kind of beast who once killed her mother and left her for dead.
Old enemies and new threaten them both and the only way they can survive is to overcome their suspicions and learn to trust in the very ones who threaten them the most: each other.
Information
Format: Paperback
Pages: 560 pages
Publisher: Little, Brown Book Group
Publication Date: 18/10/2008
Category: Fantasy
ISBN: 9780749939281
Free Home Delivery
on all orders
Pick up orders
from local bookshops
Reviews
Showing 1 - 2 of 2 reviews.
Review by wyvernfriend
16/06/2015
My but the UK cover sucks. That wig is badness personified. But in the grand spirit of not judging a book by the cover I bought it (well it is Sherrilyn Kenyon and I am a fan). Nykrian Quiakides was an assassin working for the League of Assassins but he left and now they hunt him. Now he works for hire and his latest job is to protect Kiara Zamir, a target because her father is a politician.While they have to spend time together the discover what they have in common and become fast friends but survival is uppermost in their minds. They both have powerful enemies who want them dead. They're also not sure if they can trust each other.It's very readable but almost not like most of her books, it sits a bit funny on me and the jury is still out whether I like it or Like it. I suspect it does suffer from being early stories written by her and while I did like it, I do prefer her darkhunter stuff. I do intend to read the rest though.
Review by Lila_Lockhart
16/06/2015
I really enjoyed this book. The characters and world both had me enthralled, and while the plot wasn't particularly fast paced I found the character development compensated. My main pet peeve was the lackluster Nemesis arc - I think it could have been interesting to explore that further, and something about 'quitting' a room just makes me cringe.