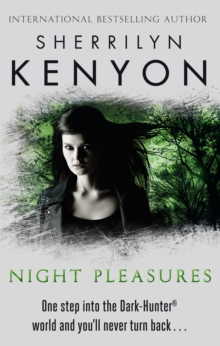 Night Pleasures
Paperback
Description
Amanda Devereaux has a crazy family. Her mother and older siblings are witches and psychics, and her twin sister is a vampire hunter.
All Amanda wants is a quiet, normal life. Only when she finds herself the target of an attack meant for her twin, she wakes to find herself handcuffed to a sexy, blond stranger.
He is Kyrian of Thrace. And while Amanda's first thought is that this might be another of her sister's attempts at extreme match-making, it soon becomes clear that Kyrian is not boyfriend material.
For Kyrian is a Dark-Hunter: an immortal warrior who has traded his soul for one moment of vengeance upon his enemies.
Kyrian spends his eternal days hunting the vampires and daimons that prey upon mankind.
He is currently on the hunt for a very old and deadly daimon named Desiderius who has deemed it sport to handcuff Kyrian to a human while he hunts him.
Now Kyrian and Amanda must find a way to break their bond before they give into their dangerous attraction to one another. Or Desiderius kills them both.
Information
Format: Paperback
Pages: 368 pages
Publisher: Little, Brown Book Group
Publication Date: 01/09/2011
Category: Fantasy
ISBN: 9780749955434
Free Home Delivery
on all orders
Pick up orders
from local bookshops
Reviews
Showing 1 - 1 of 1 reviews.
Review by Lauren2013
16/06/2015
Night Pleasures by Sherrilyn Kenyon
Book #1 in the Dark Hunters series.
4 Stars

Synopsis:
Unlike the other members of her family, Amanda Deveraux is not enamored of the supernatural. She is, therefore, unimpressed upon finding herself handcuffed to Kyrian of Thrace, a former Macedonian commander reincarnated as a vampire, or Dark Hunter, and sworn to protect humanity from soul-sucking demons. As they grow closer both emotionally and physically, Amanda and Kyrian must overcome their individual fears in order to rid the world of the dangerous demonic foe fixated on destroying them first.

Review:
Let me preface this review with a disclaimer that while I enjoy paranormal romances involving psychics, ghosts and shape shifters, I am not a fan of vampires. That said, I like the premise of the Dark Hunters perhaps because they are not vampires in the traditional sense, but rather creations established on the basis of Greek mythology, which is one of my academic interests.
The characters are endearing, especially Kyrian, whose tortured past contributed greatly to my enjoyment of the book. The world of the Dark Hunters is unique, intricate and imaginative, and I look forward to the incorporation of various mythologies in future installments. Unfortunately, Kenyon's imagination does not extend to the formulaic storyline, or the insipid and clichéd descriptions of her male characters. There are also numerous references to popular culture, which may irritate some readers. Lastly, I was disappointed by the incongruity between the origins of the characters and their use of modern language, which seems inconsistent with their characterization. The reading experience would be better served if they used more period appropriate language and dialect.
Recommendation: Overall, this book is a solid beginning to the series and I recommend reading it.
Also in the The Dark-Hunter World series | View all