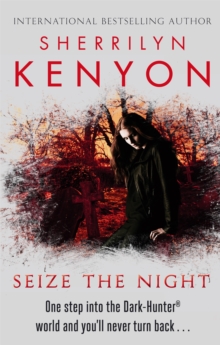 Seize The Night
Paperback
Description
Valerius isn't a popular Dark-Hunter - he's a Roman, which means that the largely Greek Hunters have a major grudge against him and his civilization for superceding them.
To make things worse, he's very conscious of his aristocratic background and breeding.
So it serves him right when he runs into Tabitha Devereaux.
She's sassy, sexy, and completely unwilling to take him seriously. (Not to mention Tabitha is also the sister-in-law of Kyrian, a former Dark-Hunter and Val's mortal enemy.) What Tabitha does take seriously is hunting and killing vampires-and soon she and Val have to grapple with the deadliest of all Daimons - one who's managed to come back from the dead, and one who holds a serious grudge against both of them.
To win against evil, Val will have to loosen up, learn to trust, and put everything on the line to protect a man he hates and a woman who drives him nuts.
Information
Format: Paperback
Pages: 352 pages
Publisher: Little, Brown Book Group
Publication Date: 01/11/2011
Category: Fantasy
ISBN: 9780749955359
Free Home Delivery
on all orders
Pick up orders
from local bookshops
Reviews
Showing 1 - 1 of 1 reviews.
Review by Lauren2013
16/06/2015
Seize the Night
5 Stars

Synopsis:
As a former Roman general, Valerius Magnus is rejected by most Greek Dark Hunters. He also has personal history with Kyrian of Thrace and Zarek of Moesa who would like nothing more than to send him into the afterlife for good. Cognizant of his aristocratic upbringing, Valerius exhibits a cold and haughty facade until the day that vampire-slayer Tabitha Devereaux saves his life and the two must work together to thwart a deadly threat with a serious grudge against them both. Can Tabby teach Valerius to forgive, and most importantly, to love?

Review:
Definitely the most romantic story in the series so far.

Kenyon has an uncanny knack for writing tortured heroes that are impossible not to love and Valerius is no exception. His sadness and loneliness are almost palpable, and Tabby's mischievous and feisty personality is the perfect foil for his stodginess. She is absolutely my favorite heroine to date. It is great to see the return of the other Dark Hunters even if Kyrian and Zarek annoyed met at times, I am pleased that they eventually saw the light.

The Dark Hunter/ Daemon / Apollite plot is evolving in an interesting way and the mythological overtones are an added bonus. Nevertheless, it is sometimes difficult to keep track of the various characters and some events remain shrouded in mystery (what exactly is Kat's relationship to Acheron, darn it?)

The action scenes are exciting, the writing flows smoothly and the story is well-paced. Even if there are some cheesy and cliched moments, the series is well worth the effort for the solid relationships and the witty dialogue. I can't wait to find out what happens next.
Also in the The Dark-Hunter World series | View all