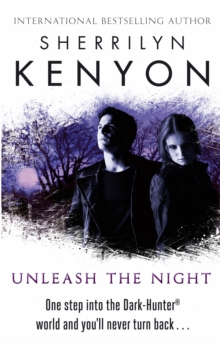 Unleash The Night
Paperback
Description
An extremely rare Tigarian Katagaria, Wren is half snow leopard and half white tiger.
Both species are extremely dangerous. Combined, they are lethal. He's reclusive and anti-social. Marguerite Godoeau has spent her lifetime trying to please her politician father.
But has come to the recent conclusion that she wants her freedom.
Missing her friend Nick Gautier who was a voice of reason in her insane life, she goes to Nick's favorite bar, Sanctuary.
From the moment he sees her, Wren is completely captivated by Marguerite.
Compelled, he follows after her and starts a most forbidden courtship.
Wren knows he has no business with a human. He has too many enemies as it is. Yet he can't seem to let go of the only thing in his life that means something to him.
Through enemies, both human and other, they have to learn to stand together or be devoured.
Information
Format: Paperback
Pages: 288 pages
Publisher: Little, Brown Book Group
Publication Date: 01/11/2011
Category: Fantasy
ISBN: 9780749955458
Free Home Delivery
on all orders
Pick up orders
from local bookshops
Reviews
Showing 1 - 1 of 1 reviews.
Review by Lauren2013
16/06/2015
Unleash the Night
4.5 Stars

Synopsis
Wren Tigarian is a rare hybrid white tiger/snow leopard Were-Hunter. An outcast from his clan, Wren finds refuge at Sanctuary, the bar owned and operated by the Peltier Were-Bears, but has never felt as if he belonged until he meets Maggie Goudeau. Unfortunately, just as they are getting to know each other, a devious plot against Wren threatens to destroy their new found love and they will have to trust each other if they are to survive...

Review
One of the best in the series so far.

Wren & Maggie have an intense and sensual connection, but despite the immediate attraction of their initial meeting, their feelings slowly develop into true affection, trust and love. They bring out the best in each other and are very sweet and likeable. I particularly enjoyed the unexpected twist that enables them to be together.

Wren is shy and unassuming but has an inner core of amazing strength and courage as well as a profound sweetness and sensitivity. Maggie is intelligent and independent with the ability to see beyond surface appearances to the true person beneath. She is also quite fierce in her own way and I loved that she stands up to her father. I also wonder if he would have been as accepting of Wren if he really were a busboy.

The rest of the plot is fast paced and exciting with numerous twists and turns. There is a lot going on - shapeshifting, time travel, a murder mystery, a death sentence, social conflict, prejudice, lust and love - but it all comes together quite seamlessly.

Additional highlights include the cameo appearances by previous Were and Dark Hunters as well as Wren's makeover scene with Aimee and the detail on Savitar's character.

Some issues that made this a 4.5 rather than a 5 star include the time travel plot device, which is somewhat contrived and a bit confusing, and the complete reversal of Nicolette Peltier's character She is so warm and welcoming in previous books but her prejudices and machinations here reveal her to be a cold, hard and selfish woman that I now dislike intensely. The fact that Dev doesn't stand up for Wren when he has the chance is another disappointing aspect.

Overall, an excellent addition to the series and I'm on to the next one.
Also in the The Dark-Hunter World series | View all