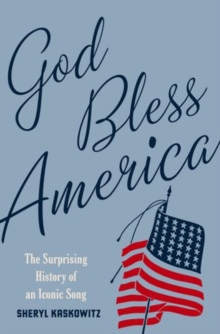 God Bless America : The Surprising History of an Iconic Song
Hardback
Description
"God Bless America" is taught in American schools and regularly sung at sporting events.
The phrase is often used by politicians and even emblazoned on car bumpers.
After the attacks on September 11th, the song became a central part of public mourning and commemoration, as it was sung at memorials both official and ad hoc: on the steps of the Capitol, at spontaneous memorial sites, and during the seventh inning stretch at baseball games.
Love it or hate it, "GodBless America" has come to inhabit our collective American consciousness.
This book tells the fascinating story behind "God Bless America." After examining the song's function during the period directly after the September 11th attacks, it moves back in time to the song's composition by Irving Berlin in 1918 and first performance by Kate Smith in 1938, revealing an early struggle for control between composer and performer as well as the hidden economics behind the song's royalties.
The book then focuses attention on the song's early reception in the years followingits 1938 radio debut, showing how its popularity reflected the anxiety of this pre-war period and revealing a surprising anti-Semitic and xenophobic backlash.
It then traces the song's shifting uses and meanings from 1940 to the present, following a rightward ideological trajectory from earlyassociations with religious and ethnic tolerance to increasing uses as an anthem for the Christian Right.
It ends with a portrait of the song's post-9/11 role within professional baseball, illuminating the power of the song-and of communal singing itself-as a vehicle for both commemoration and coercion.
Tracing the history of "God Bless America" reveals larger cultural shifts within American culture in the twentieth century: seismic changes in the popular music industry, in the assimilation andacceptance of outsiders, in the rise of the ideological Right, in rifts between generations, and in definitions of Americanness itself. Both a surprising historical chronicle and a study of contemporary American public life, God Bless America: The Surprising History of an Iconic Song brings impeccable archival research and fieldwork together to shed light on the complexities of the nation, both past and present. A companion website will offer streaming audio of recordings referenced in the book, photographs and videos of relevant performances, appendices of information, and even opportunity for readers to participatein the author's survey.
God Bless America will both delight and fascinate Americans from all walks of life.
Information
Format: Hardback
Pages: 224 pages, 10 b/w halftones
Publisher: Oxford University Press Inc
Publication Date: 25/07/2013
ISBN: 9780199919772
Free Home Delivery
on all orders
Pick up orders
from local bookshops