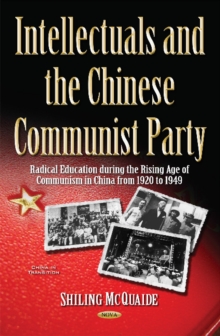 Intellectuals and the Chinese Communist Party : Radical Education during the Rising Age of Communism in China from 1920 to 1949
Hardback
Description
Intellectuals and the Chinese Communist Party: Radical Education during the Rising Age of Communism in China from 1920 to 1949 provides an analytical survey of the Communist education and propaganda programs from 1920 to 1949.
Four parts constitute the book, covering various periods of the Communist revolution.
Part One deals with the early years of the Communist Party (1920-1927), when revolutionary intellectuals endeavoured to publish labour journals, formed workers schools, and set up cadre training sites in metropolitan centres and industrial towns.
Part Two discusses Jiangxi Era (1929-1934), during which the party leaders launched experimental projects to build an education structure strikingly different from modern bourgeois schooling systems.
Part Three centres on the Yanan decade (1937-1945), in which the Communist higher learning institutions are elaborated, mass education in Shaan-Gan-Ning border region is surveyed, and the contention between Maoist reformers and professional educators is tackled.
The last part of the book observes the Civil War Years, a period that began with ferocious warfare, but ended in a twilight of peace.
By late 1948, regularization attempts had terminated the chaotic situation to dominate Communist schools in which the descendants of the labouring classes are now enrolled.
This work looks at the changing relation between revolutionary intellectuals and the Communist party through the prism of the partys radical education, an area that is not clearly charted and well explored in the English-speaking world.
In the early years of the revolution, although the partys painstaking propaganda efforts invigorated labour activism and militancy, its inflammatory messages contained paradoxes and discrepancies, the seeds leading to intellectuals degradation.
By 1926 and 1927, harsh criticism of the educated people culminated into a policy to proletarianize the vanguard organization, turning intellectuals, and the indispensable force of education into suspicious elements.
The same policy line went through the entire Jingxi Era.
Making use of heretofore little-known publications of archival materials, this book shows how campaign-style politics and suspicion of intellectuals were already present in those early years (Michael Szonyi).
The Yanan decade is represented as a significant new phase of the party-intellectual relation as the party leader Mao Zedong not only eagerly enlisted and rewarded intellectuals service, but also imposed ideological and organizational conformity on his educated subordinates.
Overall, this is a defiantly brave book, which deals with a politically charged subject such as political education.
Scholars will find in her account much with which they may disagree. (T)his is a book to learn from (Bryan Palmer).
Information
Format: Hardback
Pages: 300 pages
Publisher: Nova Science Publishers Inc
Publication Date: 01/12/2016
Category: Marxism & Communism
ISBN: 9781634858335
Free Home Delivery
on all orders
Pick up orders
from local bookshops