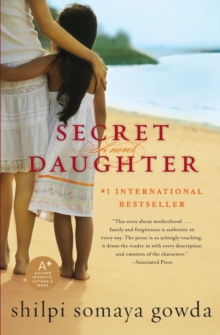 Secret Daughter : A Novel
Paperback
Description
"Moving and thought-provoking and informative and imaginative and beautifully executed. What a wonderful story!"-Mary Jane Clark "This book is a must for anyone touched by adoption, or India, or the delicate dynamic between adolescent girls and their mothers."-Sujata Massey, author of Shimura Trouble Secret Daughter, a first novel by Shilpi Somaya Gowda, explores powerfully and poignantly the emotional terrain of motherhood, loss, identity, and love through the experiences of two families-one Indian, one American-and the child that binds them together.
A masterful work set partially in the Mumbai slums so vividly portrayed in the hit film Slumdog Millionaire, Secret Daughter recalls the acclaimed novels of Kim Edwards and Thrity Umrigar, yet sparkles with the freshness of a truly exciting new literary voice.
Information
Format: Paperback
Pages: 368 pages
Publisher: HarperCollins Publishers Inc
Publication Date: 01/04/2011
ISBN: 9780061928352
Other Formats
Paperback from £6.59
EPUB from £5.49
Free Home Delivery
on all orders
Pick up orders
from local bookshops
Reviews
Showing 1 - 5 of 17 reviews.
Previous | Next
Review by janismack
16/06/2015
Nice story, easy to read.
Review by pagei
16/06/2015
This book shows what it means to be a family and what adoption is like from all parties involved.
Review by writestuff
16/06/2015
The real story of life in Dharavi is these mothers. They are the face of hope for these children, born into poverty and desolation. – from Secret Daughter, page 288 -Kavita is a poor woman living in a small village in India where boy infants are cherished and girls are discarded like trash. When she gives birth to a baby daughter, Kavita must make a horrible decision to save her daughter's life by giving her away. Thousands of miles away in America, another young mother struggles with her inability to carry a baby to term. Somer seems to have everything – a wonderful job as a doctor, a doting husband named Krishnan who although born in India has chosen to make his home in America with Somer by his side. But Somer's inability to have a child becomes a wedge between she and Kris. Eventually, Kris convinces her to travel to India to adopt a baby who they call Asha.The stories of Kavita, Somer and Asha are told over the course of twenty years and spanning the miles between India and America. The result is Shilpi Somaya Gowda's beautifully penned novel, Secret Daughter.Gowda writes with authority about a husband and wife whose love for each other is tested by infertility, the demands of their careers, and the clash between their cultures. Embedded in the novel is the universal story of women everywhere – the challenge to be wife and mother, and, for Somer, the struggle to maintain her profession while meeting the needs of her family.Everyone acts as if being a woman and a mother are inextricably intertwined. A fair assumption, since she made it herself. Only now does she know it's an enormous lie. – from Secret Daughter, page 29 -Another strong theme of the novel is the disparity between the wealthy and the poor. Gowda takes a critical look at India, a country of "contradictions," but also shows the rich history of tradition and the strong family values of the country. Through Asha's eyes, the reader gets a more even handed view of the challenges facing women and the diversity of India than either Somer or Kavita can provide. By alternating points of view, Gowda allows the reader a broad look at motherhood, women's issues, and adoption.Heartfelt, authentic, and beautifully revealed, Secret Daughter was a novel that kept me reading long past my bedtime. As Asha grows from infancy into young adulthood, it is her story which resonates the loudest. Caught between two worlds, she must forge ahead into her life in order to know where she fits within it. I thought I knew how the story would end, but I was pleasantly surprised that Gowda avoided cliches and gave me a conclusion which more closely paralleled reality.Readers who enjoy not only women's fiction, but stories set in India which give a broader view of the country's culture, will enjoy Secret Daughter.
Review by ethel55
16/06/2015
Gowda has written a very poignant book about motherhood and the various shapes it takes. When two doctors are unable to conceive naturally, Cali girl Somer and her Indian husband Kris decide to adopt a baby from an orphanage is his hometown Bombay (Mumbai). Told in alternating views, the stories of Kavita, the baby's biological Indian mother, Somer, her adoptive mother and Asha herself come to life. The various pictures of the slices of life and time of these people are at times heartwrenching and uplifting. The book touches on many social issues that face India even now, with the overcrowding, slums, birthrate, but still highlights a strong matriarchal figure in Kris' mom Sarla.
Review by Citizenjoyce
16/06/2015
The story is put together so perfectly, it's hard to believe this is a first novel. Gowda discusses sexual discrimination, culture clash, infertility, adoption, motherhood, marriage, families, regrets and reconsiderations never sounding gimmicky and always keeping the reader interested in the real people the characters could be. She mentions sexual selective abortions being done in India in a way that fits completely into the story while informing the reader of some of the consequences of India's "valuing some of her children more than others." One quote brought to mind an idea that I hadn't considered before, "Adoption cures childlessness but it doesn't cure infertility". I didn't know why Somer should have had such low self esteem, such inability to trust in her ability to mother, such rejection of her husband's culture because of her anger at him except for the fact that she couldn't forgive herself for her lack of "womanhood." I love the way the various characters wind around each other discovering new things about themselves and each other and each other's culture. This is a very satisfying, interesting even compelling book. I recommend this book to anyone who wants to know more about India, infertility, or family.