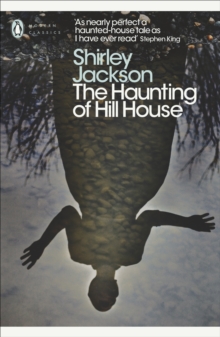 The Haunting of Hill House
Paperback
Description
The best-known of Shirley Jackson's novels, and the inspiration for writers such as Neil Gaiman and Stephen King, The Haunting of Hill House is a chilling story of the power of fear. 'Shirley Jackson's stories are among the most terrifying ever written' Donna Tartt, author of The Goldfinch and The Secret History Four seekers have arrived at the rambling old pile known as Hill House: Dr. Montague, an occult scholar looking for solid evidence of psychic phenomena; Theodora, his lovely assistant; Luke, the future inheritor of the estate; and Eleanor, a friendless, fragile young woman with a dark past.
As they begin to cope with horrifying occurrences beyond their control or understanding, they cannot possibly know what lies ahead.
For Hill House is gathering its powers - and soon it will choose one of them to make its own.
Adapted into a film, The Haunting, starring Liam Neeson, Catherine Zeta-Jones and Owen Wilson, The Haunting of Hill House is a powerful work of slow-burning psychological horror.
Shirley Jackson's was born in California in 1916. When her short story The Lottery was first published in the New Yorker in 1948, readers were so horrified they sent her hate mail; it has since become one of the most iconic American stories of all time.
Her first novel, The Road Through the Wall, was published in the same year and was followed by five more: Hangsaman, The Bird's Nest, The Sundial, The Haunting of Hill House and We Have Always Lived in the Castle, widely seen as her masterpiece.
Shirley Jackson died in her sleep at the age of 48. If you enjoyed The Haunting of Hill House, you might like Jackson's We Have Always Lived in the Castle, also available in Penguin Modern Classics. 'An amazing writer ... If you haven't read her you have missed out on something marvellous' Neil Gaiman 'As nearly perfect a haunted-house tale as I have ever read' Stephen King 'The world of Shirley Jackson is eerie and unforgettable' A.
M. Homes 'Shirley Jackson is one of those highly idiosyncratic, inimitable writers...whose work exerts an enduring spell' Joyce Carol Oates
Information
Format: Paperback
Pages: 256 pages
Publisher: Penguin Books Ltd
Publication Date: 01/10/2009
Category: Horror & ghost stories
ISBN: 9780141191447
Other Formats
Hardback from £11.25
EPUB from £4.99
eAudiobook MP3 from £17.60
Free Home Delivery
on all orders
Pick up orders
from local bookshops
Reviews
Showing 1 - 5 of 7 reviews.
Previous | Next
Review by clfisha
16/06/2015
The Haunting (1963)is one of my favourite films and I have always been intrigued to read the source text. Luckily the book tells a wonderful tale, laden with atmosphere, dripping with menace and all encompassing heartbreaking loneliness.There is so much to like about this tale. The house itself is a master class of how to create a haunted house. It is odd, confusing and utterly menacing and it's history is only hinted at. Take the truly chilling homemade book of religious instruction from father to very young daughter and imagine the page on lust.. ugh!The flexibility of leaving haunting is open to interpretation is not only a wonderful balancing act but also allows the relaxtion of inbuilt rules. Without these rules the suspense is high, it is hard to guess where its a going. Whether a descent in madness or a tale of true evil it doesn't matter the result is a disturbing horror tale.I also adore the characters, culled from stereotypes but filled with life. Told from Eleanor's point of view, Jackson succeeds in making her believable and sympathetic, something which could easily have fallen into irritating farce. The other (small) cast support her wonderfully, including one of my favourite characters: ever the empathic but selfish Theo.Of course there are things not to like. The sparkling witty dialogue, which works so well as a contrast to the setting, sometimes feels too unrealistic whilst the obvious dig at spiritualism seems a bit pointless. It also suffers from my preference for the film, I much preferred the films more likeable Theo and the change in plot professors wife.Oevrall it's such a good horror tale and amazing film (I ignore the travesty of the later film. Bah!)
Review by eleanor_eader
16/06/2015
Eleanor Vance, taking the first adventurous step of her life, comes to Hill House to take part in an experiment in observable phenomenon, conducted by Dr. Montague, and there meets his two other 'assistants', wilful, artistic Theo and Luke, nephew of Hill House's owner. The book is replete with character – not only are the foursome somehow richly drawn in spare narration, but the house settles around them with a uniquely malevolent presence which most horror writers can only hope to capture. When we first meet Eleanor, we are charmed by her imagination and determination to try something new, but we quickly become scared for her because she is too vulnerable; not only susceptible to the house which quickly pegs her as the weak spot in the group, but also to the charm of her two new friends, ascribing to both of them in turn a heavy yet too-fragile dependence. The dialogue that delights the reader in the beginning turns sour and petty, sparking first insecurity and then delusion. Eleanor is cruelly used by the house, and by the author, which makes this one of the more merciless supernatural tales I've read.As to the 'haunting'… it is so vaguely connected to the various inhabitants that it almost seems as though the house haunts itself, and has from the start. Rather than diminish the horror, this lends it a relentless, predatory aspect – tormented souls are one thing, an eighty year-old house that is murderously insane is an altogether more troublesome entity.I can't rave about Jackson's horror-writing style enough… she uses dialogue to devastating effect, but more than that she can write subtle, creeping tension or bang on the reader's door in the middle of the night <i>and</i> make the two sensations mesh perfectly in one book.
Review by jbrubacher
16/06/2015
A doctor invites a few strangers to House Hill, hoping to investigate its paranormal happenings. One of his guests, Eleanor, is a lonely woman whose mother has just died. Her reaction to the house amounts to more than fear. She starts to feel like she belongs to the place.Classic, spooky Shirley Jackson. A scary tale that suggests much more than it tells. This is a quick read and perfect for anywhere. Even finishing it off sitting in the sun I felt chilled and unsettled. Great writing.
Review by nostalgebraist
16/06/2015
I didn't think this could possibly live up to the one other Jackson novel I've read, We Have Always Lived In The Castle. Indeed it didn't, but that isn't saying much because Castle is a perfect ruthless machine that pinpointed and exploited my psychological/emotional weak points and narrative pleasure buttons with impeccable grace and brio, and is probably, at its own game, strictly untoppable.<br/><br/>Hill House is playing a similar game but is longer, looser, more diffuse, "weirder" in the specific sense that it involves more ambiguity and more unexplained shifts and lurches. In itself this works very well, as it's necessary to create the atmosphere of creepy instability that Jackson is going for (and yes, although the haunted house concept is pretty much a running joke in pop culture, this a haunted house story that is <i>legitimately creepy</i> -- eat your heart out, Danielewski). But it means it lacks Castle's aura of perfection. It is, however, good enough to solidify my sense that Jackson will become one of my favorite authors. (This is a relief, as I was worried she was going to be another one of these writers whose one good book happens to be the one I read first. If only Murakami had ever written anything else nearly as good as Hard-Boiled Wonderland, etc.)<br/><br/>Most of the art I like is baroque, complicated, flashy, adorned. I usually can't stand writers who just put one simple word after the next. When I've tried to read Hemingway he just seems so insubstantial and willfully inane that I start to wonder if I'm on candid camera. Less is less. Jackson, though, breaks the pattern and makes me realize how wrong it is to simply identify literary virtue with flashy complexity. On a linguistic level her writing is simple and straightforward; single out any individual sentence or phrase and there is nothing there to mull over or wonder at. But when compiled together, these sentences work a strange magic. She creates such distinct and intense characters and atmospheres, with so few and such ordinary words, that it feels almost paradoxical -- as if there must be <i>more</i> there than the words, as if the pages themselves have been enchanted or infused with some potent drug. This impression, of course, is not a flaw in Jackson but in me -- I'm just not used to writers who can wield this much skill without showing off. Jackson knows exactly what she's doing, and when I'm reading her my mind is hers to play with.
Review by edgeworth
16/06/2015
Stephen King called The Haunting of Hill House the greatest American horror novel of the 20th century; I think I picked it up after reading a Guardian list of 10 unconventional fantasy novels. It revolves around parapsychologist Dr Montague's investigation of the titular mansion, for which he recruits two young women with previous paranormal experiences, Theodora and Eleanor, and the mansion's heir, Luke.The novel largely follows Eleanor's perspective, whom it eventually becomes clear is an unreliable narrator. Jackson deliberately makes it difficult to tell the border between Eleanor's own mental instabilities and the house's disquieting effects. Which is not to say that Hill House's "haunting" (the details of which I won't spoil) is a figment of her imagination; Luke and the doctor witness their own paranormal events, and in one particularly disturbing moment Theodora and Eleanor are outside at night when Theodora witnesses something behind them and screams at Eleanor to run. Much of the book consists of the characters speaking, in banter which can sometimes grow tedious, but I can appreciate that the chaff is necessary to make the terrifying moments stand out all the more.The novel is flawed somewhat towards the end; I'd been having a a perfectly creepy time (partly because I made sure to only read it late at night) when all of a sudden Dr Montague's wife and her friend Alan show up to join the household. Mrs Montague considers herself a paranormal expert as well, of greater expertise than her husband, and both she and Alan are tiresomely drawn as pompous characters to add an edge of comic relief to a novel which really didn't need it.Nevertheless, The Haunting of Hill House is a pretty solid haunted house story, with some genuinely scary moments and a well-drawn, brooding atmosphere. There's a wealth of analytic material there – feminist and gothic and what have you – if you feel like writing an essay on it, but for the ordinary reader it's just a good, creepy horror novel.
Also in the Penguin Modern Classics series | View all