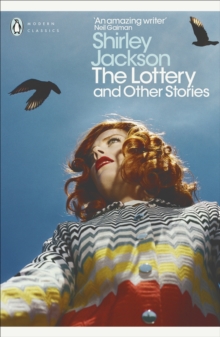 The Lottery and Other Stories
Paperback
Description
This is the definitive collection of Shirley Jackson's short stories, including 'The Lottery' - one of the most terrifying and iconic stories of the twentieth century, and an influence on writers such as Neil Gaiman and Stephen King.'Shirley Jackson's stories are among the most terrifying ever written' Donna TarttIn these stories an excellent host finds himself turned out of home by his own guests; a woman spends her wedding day frantically searching for her husband-to-be; and in Shirley Jackson's best-known story, a small farming village comes together for a terrible annual ritual.
The creeping unease of lives squandered and the bloody glee of lives lost is chillingly captured in these tales of wasted potential and casual cruelty by a master of the short story.
Shirley Jackson's chilling tales have the power to unsettle and terrify unlike any other.
She was born in California in 1916. When her short story The Lottery was first published in The New Yorker in 1948, readers were so horrified they sent her hate mail; it has since become one of the greatest American stories of all time.
Her first novel, The Road Through the Wall, was published in the same year and was followed by five more: Hangsaman, The Bird's Nest, The Sundial, The Haunting of Hill House and We Have Always Lived in the Castle, widely seen as her masterpiece.
Shirley Jackson died in her sleep at the age of 48. 'An amazing writer ... if you haven't read any of her short stories ... you have missed out on something marvellous' Neil Gaiman'Her stories are stunning, timeless - as relevant and terrifying now as when they were first published ... 'The Lottery' is so much an icon in the history of the American short story that one could argue it has moved from the canon of American twentieth-century fiction directly into the American psyche, our collective unconscious' A.
M. Homes
Information
Format: Paperback
Pages: 320 pages
Publisher: Penguin Books Ltd
Publication Date: 01/10/2009
ISBN: 9780141191430
Free Home Delivery
on all orders
Pick up orders
from local bookshops
Reviews
Showing 1 - 4 of 4 reviews.
Review by eleanor_eader
16/06/2015
This collection of Shirley Jackson's short stories is a subtle store of tension and under-played drama, absolutely enjoyable in small doses, and rather overwhelming when read straight through. I thought Jackson was a gifted storyteller in the gothic tradition after reading both <i>The Haunting of Hill House</i> and <i>We Have Always Lived in the Castle</i>, but to create such atmosphere in small, often seemingly trivial pieces of writing lifts her above 'gifted' and into the realm of 'genius'. <i>The Renegade</i> and <i>Pillar of Wisdom</i> stand out as strikingly fraught, while <i>The Tooth</i> and <i>The Lottery</i> - which was the only story I'd read before – are actually shudder-inducing. Others are far more subtle, allowing the reader to bring their own interpretations of the source of the tension, and there are a few that might be considered ordinary stories in ordinary settings, ranging from 'amusing' (<i>Got a Letter from Jimmy</i>) to 'unpleasant' (<i>Flower Garden</i>) in tone, but told from that slightly acute angle that makes them uniquely Jackson's.
Review by clfisha
16/06/2015
Shirley Jackson is a master at taking everyday life and twisting into ominous shapes, and whilst these very short tales are a mixed bag there are more than enough good ones to make this a must read. Morality and social life are viewed through odd perspectives. The loneliness and alienation we all feel at times is pinned and displayed in delicious biteszied vignettes and you ride happily along with polite society until you feel the creeping horror as things go awry, when it's rules create racism or death. You share the horror at the strangers that kids can become and then sit inside someone's else head with growing murderous rage at their husbands unthinking actions and what's more you can understand it. This empathy is what makes the horror all the more real.. I mean what if she is talking about our own lives?It is in an intense, wonderful read and though I didn't always like every story (and I missed the growing evocative atmosphere of her novels) I would highly recommend to anyone.
Review by GingerbreadMan
16/06/2015
I fell in love with Jackson's crisp, exact prose and dense ambience when I read We Have Always Lived in the Castle last year, and have been looking forward to reading more. I was not disappointed.This is brilliance. Jackson's sense of ever so slightly tilted everyday stories, beautifully composed is a creepy joy to read, and I've been savoring this book. The title story is, apparently, very well known to American readers as a must-read in school, and it's easy to see why. Without really stating anything, just casually describing a process, it's a chilling look at conformism and people's willingness to follow tradition. For pure shivers down the spine-value, it's hard to match, and it's probably a good move from the editor of this collection to put it last in this collection. But even though most of the stories here are much less explosive, there are many more eerie moments of everyday cruelty, of identity slipping or of lives falling apart in a less obvious way. Sometimes the animosity never even surfaces, like in the story of two war mothers discovering that the petty things keeping them apart are stronger than the ones bringing them together. All during polite, even warm, conversation.Among my many favorites in this bouquet of poisonous flowers are: the story about the perfect host being driven out of his own dinner party, cuckoo style, the sickening everyday racism surrounding Ms. MacLane's flower garden, the woman realizing the new neighbors are some very strange people indeed, and the surreal and scary trip to the New York dentist. The list could be much longer. One or two of the very short stories might be a simple pun, but most of them are here, in me, to stay. Already in mid-january, this is a strong contender for read of the year, I suspect.
Review by passion4reading
16/06/2015
My first impression was that the individual stories are a bit hit and miss but the longer you think about them, the more you realise that Shirley Jackson manages to bring out the monster in the most ordinary people, so not a horror story in the usual sense. Even though I find some of the stories featured still a bit disappointing, some others linger on in the mind: "The Lottery", of course, but in my opinion also "Flower Garden" and "Of Course". Others deal with the seemingly pointless struggle of human lives and the amount of time wasted in the pursuit of a goal that will never be achieved: "The Daemon Lover", "Elizabeth" and "Seven Types of Ambiguity". A good read and one that will keep your thoughts occupied for some time.
Also in the Penguin Modern Classics series | View all