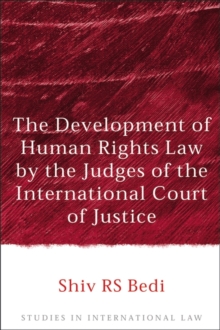 The Development of Human Rights Law by the Judges of the International Court of Justice
Hardback
Description
The jurisprudence of the International Court of Justice generally demonstrates that no rule of international law can be interpreted and applied without regard to its innate values and the basic principles of human rights.
Through its case-law the ICJ has made immense contributions to the development of human rights law, and in so doing continues to provide solutions to mounting international problems, such as terrorism and unilateral use of force.
Part I of the book argues that the legislative spirit of contemporary international law lies in the doctrine of human rights and that the spirit of human rights doctrine lies in the principle of human dignity.
Furthermore it argues that the processes of international legislation and international adjudication are inseparable, and that there is no norm of international law which does not intertwine the fundamental principle of human dignity with human rights doctrine.
Hence human rights law is more a school of law than merely a normative branch of international law, and the ICJ's willingness to engage in the development of human rights law depends upon which judicial ideology its judges subscribe to.In order to evaluate how this human rights spirit is manifested, or occasionally not manifested, through the vast jurisprudence of the ICJ, Parts II and III critically examine the Court's principal contentious and advisory cases in which it has treated human rights questions. The legal reasoning of the Court and the opinions appended to its decisions by its individual judges are analysed in light of the principle of human dignity and the doctrine of human rights.
Information
Format: Hardback
Pages: 504 pages, black & white illustrations
Publisher: Bloomsbury Publishing PLC
Publication Date: 18/01/2007
Category: International human rights law
ISBN: 9781841135762
Also in the Studies in International Law series | View all