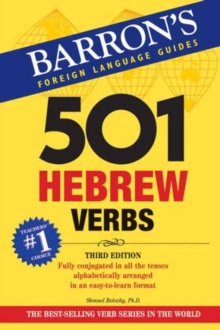 501 Hebrew Verbs
Paperback / softback
Description
Learning Hebrew Becomes Easier with This Helpful Guide to Verbs and Their Roots The most commonly used Hebrew verbs are arranged alphabetically in a table format, with English translation, and presented in all forms.
The book's additional features utilize example sentences and common idioms to demonstrate verb usage and how verbs function within the sentence.
It includes: The 1531 most common Hebrew verbs, fully conjugated, grouped into 759 roots based on verb frequency The Hebrew roots and derived infinitives printed at the top of each page Less frequent verb forms realized in the relevant roots listed separately (citation forms only) Present participles, verbal nouns and infinitives (construct and absolute forms) Jussive forms of verbs that are significantly different from non-jussive ones Exemplary sentences presented for each verb-root group, with accompanying translations, followed by special expressions incorporating the relevant verbs Notes on usage register (literary, colloquial, slang, etc.) as well as on colloquial alternates of normative forms An enlightening explanatory essay discussing Hebrew verb formation and usage Root index, Hebrew-English Index, and English-Hebrew index, in alphabetical order.
Information
Format:Paperback / softback
Pages:880 pages
Publisher:Peterson's Guides,U.S.
Publication Date:21/05/2018
Category:
ISBN:9781438010403
Also in the Barron's 501 Verbs series | View all