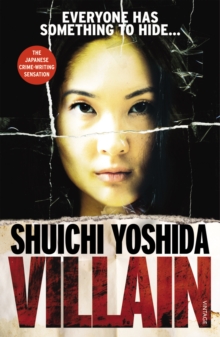 Description
A young woman is brutally murdered on a remote mountain road. A young construction worker, Yuichi, is on the run - but is he guilty?This is the dark heart of Japan; a world of seedy sex hotels and decaying seaside towns; a world of loneliness, violence and desperation.
As the police close in on Yuichi and his new lover, the stories of the victim, the murderer and their families are uncovered.
But these men and women are never what they appear to be...
Information
Format: Paperback
Pages: 304 pages
Publisher: Vintage Publishing
Publication Date: 01/08/2011
ISBN: 9780099526650
Free Home Delivery
on all orders
Pick up orders
from local bookshops
Reviews
Showing 1 - 2 of 2 reviews.
Review by missizicks
16/06/2015
This was a little depressing, but only because it was so well written. I felt a certain empathy for the central character and felt that Shuichi Yoshida made him a believable person. The book was an interesting exploration of alienation and the need to feel loved by someone, to feel that you belong. It wasn't just a clichéd tale of an introverted loner turning out to be a serial killer. It was more an exploration of how life events mould us and can take us to extremes. It did leave me feeling a little bummed out, though!
Review by Opinionated
27/08/2015
Shuichi Yoshida specialises in tales of isolation and lonliness, and Villain is another excellent piece of work, although not as complete in my view as Parade, his other work that has been translated into English. Yoshino, an insurance saleswoman, has a late night date with the handsome college student Keigo; in the morning her body is found on the Mitsui Pass, an eerie place best avoided. And Keigo has disappearedWe soon learn that there were many sides to Yoshino; whilst her friends believe her to be dating Keigo, she was in fact having a range of assignations with men she met online. And some of them she had started asking for money. One of these dates/ customers is Yuichi. A non communicative loner, obsessed with his car, Yuichi has had an unfortunate upbringing. Abandoned by his mother at an early age, he has been brought up by his grandparents in a small fishing village. He is emotionally stunted, desperate for love but with no sense of how to begin a relationship. He has previously been obsessed with the sex worker Miho, visiting her massage parlour everyday and cooking her lunch, before his intensity scared her off. But then Yuichi encounters Mitsuyo online, another lonely young woman, with a boring job selling mens clothes. They agree to meet, and somewhat to Mitsuyo's surprise, rather than the drive to a romantic lighthouse that she was expecting, she finds herself in a love hotel with Yuichi within an hour of their first meeting. She finds herself responding to his emotional neediness and becoming obsessed with him in turnAs Keigo reappears on the scene and appears not to be the guilty party, police suspicion turns to Yuichi and he and Mitsuyo go on the run, firstly living in love hotels and then, as money gets tight and the net closes in, abandoning his car and huddling together in the abandoned lighthouse, happy, after a fashion. But it can't last and in a scene of remarkable intensity, Mitsuyo and Yuichi's relationship comes to a head as the police close inDuring the course of the book we learn why Yoshino was at the Mitsue Pass, and who killed her, but not really why . In one of Shuichi's trademark morally ambiguous endings, a number of possibilities remain. But in many ways, the reason doesn't matter. What Shuichi succeeds brilliantly in doing is opening up a world of lonliness, quiet despair, inability to communicate and emotional immaturity. He seems to have a poor opinion of Japanese youth; none of his young characters, from the cruel, feckless Keigo to the naive Mitsuyo come out of this well compared to the older characters, such as Yoshino's grieving parents and Yuichi's brave, stoic grandparents. He seems to see a bleak future for these cold numb youthAn excellent book, but I as mentioned above, I do think Parade is better