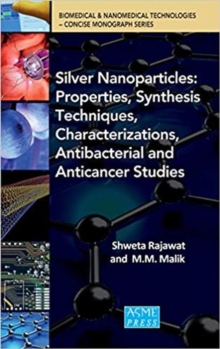 Silver Nanoparticles : Properties, Synthesis Techniques, Characterizations, Antibacterial and Anticancer Studies
Hardback
Description
Silver nanoparticles are found to have wide applications in various areas like optical receptors, bio-labeling sensors, bio active materials, solar energy conversion, signal enhancers in SERS based enzyme Immunoassay.
Silver nanoparticles exhibit high antimicrobial, antiviral, antifungal and anticancer activities.
The properties of materials change as their size approaches the nanoscale and as the percentage of atoms at the surface of a material becomes significant.
Nanoparticles, of desired morphology and required application, can be synthesized using physical, chemical and biological synthesis methods. This monograph introduces historical background of silver and narrates exhaustive literature review conducted during the research.
It gives details about the existing physical, chemical and biological approaches.
In the present work, innovative green synthesis process for silver nanoparticles were designed which rendered highly pure nanoparticles on characterizing using XRD, TEM , FTIR and UV-Visible spectroscopy.
The green synthesis methods replace hazardous chemicals by environment-friendly products using principles of green chemistry. The monograph includes the study of the effect of the current, temperature, strength of the precursor, reducing/capping agents and their concentration on the morphology of nanoparticles and the nanostructures.
The findings of the tests conducted for antibacterial properties show almost 100% killing efficiency against E. coli, S. Aureus, S. Typhi and P. Aeruginosa. In case of in-vitro testing for anti-cancer properties, 80-98% killing efficiency for MC F-7 Breast cancer cell lines and He-La cervical cancer cell lines were noticed.
The as-synthesized silver nanoparticles finds wide applications in the field of medicine, especially targeted drug delivery.
Information
Format: Hardback
Pages: 277 pages
Publisher: American Society of Mechanical Engineers,U.S.
Publication Date: 30/08/2018
Category: Engineering: general
ISBN: 9780791860458
Free Home Delivery
on all orders
Pick up orders
from local bookshops