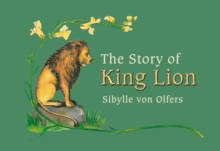 The Story of King Lion
Hardback
Description
King Lion is having a feast. All his animal subjects bring their favourite meal -- saltwater lemonade from the fish, snail sausages from the hedgehog and thistle salad from the donkey.
But which dish will King Lion like the best? From the author of The Story of the Root Children, this tale from the animal kingdom is told in lively rhyming verses, and beautifully illustrated in classic art nouveau style.
This is the first time this book has been published in English.
Information
Format: Hardback
Pages: 24 pages, colour illustrations
Publisher: Floris Books
Publication Date: 10/01/2013
Category: Picture storybooks
ISBN: 9780863159497
Free Home Delivery
on all orders
Pick up orders
from local bookshops
Reviews
Showing 1 - 2 of 2 reviews.
Review by AbigailAdams26
16/06/2015
Originally published in 1912 as <u>König Löwes Hochzeitsschmaus</u> (literally, "King Lion's Wedding Feast"), this rhyming picture-book from German author/artist Sibylle von Olfers features a contest set by the Lion King for his animal subjects, who must each bring their favourite dish to the banquet. Whoever brings the most pleasing offering shall assist the king in ruling his other subjects. The narrative runs through a variety of animals and their culinary delights - the Stork's frog pâté, the Pig's truffle stew, the Cow's cheesecake - before concluding with the 'sly' Wolf's gift of a slain lamb...Of the eight stories I have read from von Olfers - she created ten picture-books, but the final two have not yet been translated into English - I think <u>The Story of King Lion</u> is probably my least favourite. I really couldn't work up much interest in the story, was indifferent to who would triumph in the end, and thought the English translation was sometimes a little clunky. That said, the artwork was lovely. I enjoyed the depictions of the various animals proffering their dishes, and liked the page set-up as well, with two verses on one page and artwork featuring the two creatures in question on the facing page. As someone who's recently spent a great deal of time studying Reynard stories, I did find the setting of the tale at the Lion King's court to be interesting. Also, I thought it was unusual to have the <spoiler>wolf</spoiler> triumph, as he is not always a character depicted as being particularly clever. That said, I can't imagine this one having much appeal, save to dedicated fans of von Olfers' artwork, or to scholars (like me) who find in it an interesting footnote to earlier traditions.
Review by Sullywriter
16/06/2015
A 1912 German classic reprinted in English for the first time. Not a story that will likely appeal to contemporary children but a lovely representation of storytelling and illustration of its time.