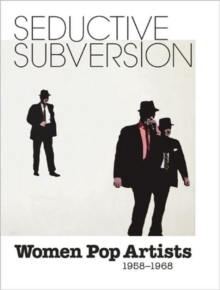 Seductive Subversion : Women Pop Artists 1958-1968
Hardback
Description
Pop Art was one of the most important artistic movements of the late twentieth century.
Its adaptation of mediated, popular-culture imagery continues to influence artists, but until now, little attention has been paid to the important contributions that women made to the movement.
Pop Art by women dealt less with direct consumerist critiques, instead subversively combating the stereotypical perceptions of women via advertising and film cliches.
Work by women Pop artists ranges from Rosalyn Drexler's surreal film-noir riffs, Idelle Weber's New Realism office workers, and Niki de Saint Phalle's exuberant Nanas to the more controversial and blatantly political statements of Faith Ringgold and Martha Rosler.
Pauline Boty and Axell explored female desire, while the innovative soft structures stitched by Yayoi Kusama, Jann Haworth, Patty Mucha, and others form an important contribution to the history of sculpture. Seductive Subversion: Women Pop Artists 1958--1968 is the catalogue of the first exhibition to expand Pop Art's narrow critical definition to reflect the significant role of these women artists. The culmination of six years of research by Sid Sachs, this exhibition, organized by the Rosenwald-Wolf Gallery of the University of the Arts, Philadelphia, is touring nationally.
The essays in this catalogue span from London's Independent Group in the early 1950s to the end of classic Pop in 1968.
Written by the art historians Linda Nochlin, Sid Sachs, Kalliopi Minioudaki, Bradford R.
Collins, Annika Ohrner, and Sue Tate and the artists Martha Rosler and Patty Mucha, these texts will be revelations and will remain a vital reference for artists, art and cultural historians, and feminists alike.
Artworks by more than twenty artists are reproduced, including Pauline Boty, Chryssa, Rosalyn Drexler, Jann Haworth, Yayoi Kusama, and Marisol, as well as now lesser-known figures such as Barbro Ostlihn and Dorothy Grebenak.
Numerous works are discussed in depth from a number of vantage points.
Information
Format: Hardback
Pages: 248 pages
Publisher: Abbeville Press Inc.,U.S.
Publication Date: 07/10/2010
Category: Art & design styles: Pop art
ISBN: 9780789210654