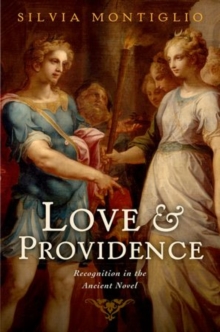 Love and Providence : Recognition in the Ancient Novel
Hardback
Description
From the Odyssey and King Lear to modern novels by Umberto Eco and John le Carre, the recognition scene has enjoyed a long life in western literature.
It first became a regular feature of prose literature in the Greek novels of the first century CE.
In these examples, it is the event that ensures the happy ending for the hero and heroine, and as such, it seems, was as pleasing for Greek readers as the canonical Hollywood kiss is forcontemporary movie goers.
Recognitions are particularly gratifying in the context of the ancient novels because the genre as a whole celebrates the idyllic social order to which the heroes and heroines belong and from which they have been harshly severed.
In spite of their high frequency and thematic importance, novelisticrecognitions have attracted little critical attention, especially in relation to epic and tragedy.
With Love and Providence, Silvia Montiglio seeks to fill this gap.
She begins by introducing the meaning of recognitions in the ancient novel both within the novels' narrative structure and thought world-that is, the values and ideals propounded in the narrative.
She pursues these goals while examining novels by Chariton, Xenophon of Ephesus, Achilles Tatius, Longus, Heliodorus,Apuleius, and Petronius, as well as the Life of Apollonius of Tyre, the pseudo-Clementine recognitions, and the Jewish novel Joseph and Aseneth.
In addition to addressing questions brought about by the recognitions-What does it mean for lovers to recognize each other at the end of their adventures?
Is recognitionthe confirmation of sameness or an acknowledgement of change?-Montiglio addresses the rapport novelists entertain with their literary tradition, epic and drama.
The book concludes by emphasizing the originality of the novels for the development of the recognition motif, and by explaining its influence in early-modern European literature.
Information
Format: Hardback
Pages: 272 pages
Publisher: Oxford University Press Inc
Publication Date: 27/12/2012
ISBN: 9780199916047
Free Home Delivery
on all orders
Pick up orders
from local bookshops