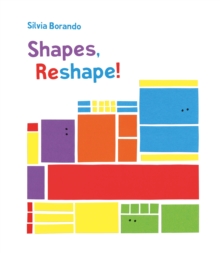 Shapes, Reshape! : a minibombo book
Hardback
Part of the Minibombo series
Description
A minibombo book: a little book buzzing with a big idea. Count down from 10 to 1 in this playful interactive exploration of the shapes that make up our favourite animals.
The shapes, at first, are lined up neatly in rows. But, at the turn of the page, they're mixed up, moved around and reshaped into all kinds of animals!
Buzzy and clucky and scaly and sluuuurpy! Look - these green shapes reshape into scaly things.
What they could be? Turn the page to reveal ... of course! 3 alligators, snip, snap and snappy! As we visit ten groups of shapes, can you try and guess what animal the shapes will become before the shapes reshape? (But, with the animals getting bigger and more ferocious each time, watch out for a rather fiery finale!)
Free Home Delivery
on all orders
Pick up orders
from local bookshops