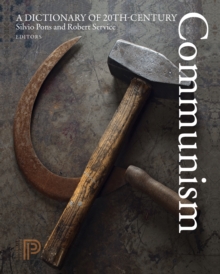 A Dictionary of 20th-Century Communism
Paperback / softback
Description
The first book of its kind to appear since the end of the Cold War, this indispensable reference provides encyclopedic coverage of communism and its impact throughout the world in the 20th century.
With the opening of archives in former communist states, scholars have found new material that has expanded and sometimes altered the understanding of communism as an ideological and political force.
A Dictionary of 20th-Century Communism brings this scholarship to students, teachers, and scholars in related fields.
In more than 400 concise entries, the book explains what communism was, the forms it took, and the enormous role it played in world history from the Russian Revolution through the collapse of the Soviet Union and beyond. * Examines the political, intellectual, and social influences of communism around the globe * Features contributions from an international team of 160 scholars * Includes more than 400 entries on major topics, such as: * Figures: Lenin, Mao, Stalin, Ho Chi Minh, Pol Pot, Castro, Gorbachev * Events: Cold War, Prague Spring, Cultural Revolution, Sandinista Revolution * Ideas and concepts: Marxism-Leninism, cult of personality, labor * Organizations and movements: KGB, Comintern, Gulag, Khmer Rouge * Related topics: totalitarianism, nationalism, antifascism, anticommunism, McCarthyism * Guides readers to further research through bibliographies, cross-references, and an index
Information
Format: Paperback / softback
Pages: 960 pages
Publisher: Princeton University Press
Publication Date: 04/03/2012
Category: Reference works
ISBN: 9780691154299
Free Home Delivery
on all orders
Pick up orders
from local bookshops