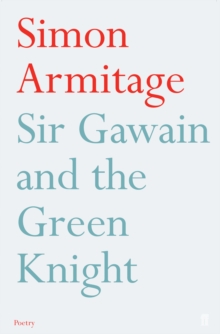 Sir Gawain and the Green Knight
Paperback
Description
Preserved on a single surviving manuscript dating from around 1400, composed by an anonymous master, "Sir Gawain and the Green Knight" was rediscovered only 200 years ago, and published for the first time in 1839.
One of the earliest great stories of English literature, after "Beowulf", the poem narrates the strange tale of a green knight on a green horse, who rudely interrupts the Round Table festivities one Yuletide, casting a pall of unease over the company and challenging one of their number to a wager.
The virtuous Gawain accepts, and decapitates the intruder with his own axe.
Gushing blood, the knight reclaims his head, orders Gawain to seek him out a year hence, and departs.
Next Yuletide Gawain dutifully sets forth...His quest for the Green Knight involves a winter journey, a seduction scene in a dream-like castle, a dire challenge answered - and a drama of enigmatic reward disguised as psychic undoing.
Information
Format: Paperback
Pages: 128 pages
Publisher: Faber & Faber
Publication Date: 05/03/2009
Category: Poetry by individual poets
ISBN: 9780571223282
Other Formats
CD-ROM from £9.95
Paperback from £10.75
EPUB from £6.39
Free Home Delivery
on all orders
Pick up orders
from local bookshops
Reviews
Showing 1 - 2 of 2 reviews.
Review by g026r
16/06/2015
While perhaps not the most accurate translation, it remains one of the more readable by the general reader, and maintains a sense of vitality and flow throughout. My main complaint would be a few too modern, or too slang-y phrasing choices of the sort that feel forced and dated a mere handful of years later.
Review by shanaqui
16/06/2015
Simon Armitage's translation of Sir Gawain and the Green Knight is certainly a very modern one. I think it's important to remember, when reading anything in translation, that nothing is immune to the translator's own views and intentions. This is especially apparent in translations like Seamus Heaney's translation of Beowulf, and this translation of Sir Gawain and the Green Knight, but it's always the case. Even when it's a group of undergrads doing awkward prose translations -- I always use the example of Wulf and Eadwacer. There is no way you can translate that poem without personal interpretation. Even if you consciously translate the poem in order to keep all the ambiguities in place, that's an interpretation. Knowing this, and having read the introduction to this translation, it was easy for me to settle down and just enjoy Simon Armitage's translation. It's not literal, and it's colloquial, and it's contemporary, and it will probably quickly become dated. I don't think it's suitable for commenting on the poem in an academic context, unless you're actually commenting on the different translations, because it's very much an interpretation and in "plain English" and doesn't hold all the richness of the original.<br/><br/>It's also very readable, and rich in its own way. If you want to read Sir Gawain and the Green Knight and you're daunted by the idea of the "Old English"*, this translation is great -- lively and, I think, playful. I enjoyed the language a lot, not least because of how very <I>Yorkshire</I> it is (I grew up in Yorkshire). Armitage makes a good attempt at using the alliterative metre, and the poem practically begs to be read aloud and savoured.<br/><br/>The story itself has become less and less important to me as I've read the poem in various different translations (Armitage's, Brian Stone's, a prose translation, the original...) and instead I've found myself focusing on the tone of the poem (is the narrator being ironic?) and details like the missing day (count 'em up carefully), and the use of adjectives ("good Gawain", etc). Still, there's an interesting story there, too -- the testing of Sir Gawain, a tension between courtly manners and Christianity, etc, etc.<br/><br/>*It's actually in Middle English, and all of the translations will be Modern English.