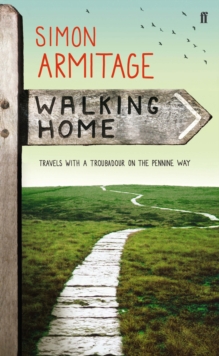 Description
In summer 2010 Simon Armitage decided to walk the Pennine Way.
The challenging 256-mile route is usually approached from south to north, from Edale in the Peak District to Kirk Yetholm, the other side of the Scottish border.
He resolved to tackle it the other way round: through beautiful and bleak terrain, across lonely fells and into the howling wind, he would be walking home, towards the Yorkshire village where he was born.
Travelling as a 'modern troubadour' without a penny in his pocket, he stopped along the way to give poetry readings in village halls, churches, pubs and living rooms.
His audiences varied from the passionate to the indifferent, and his readings were accompanied by the clacking of pool balls, the drumming of rain and the bleating of sheep. "Walking Home" describes this extraordinary, yet ordinary, journey.
It's a story about Britain's remote and overlooked interior - the wildness of its landscape and the generosity of the locals who sustained him on his journey.
It's about facing emotional and physical challenges, and sometimes overcoming them.
It's nature writing, but with people at its heart. Contemplative, moving and droll, it is a unique narrative from one of our most beloved writers.
Information
Format: Hardback
Pages: 250 pages
Publisher: Faber & Faber
Publication Date: 01/07/2012
Category: Prose: non-fiction
ISBN: 9780571249886
Other Formats
Paperback from £7.85
CD-Audio from £15.45
EPUB from £6.80
Free Home Delivery
on all orders
Pick up orders
from local bookshops
Reviews
Showing 1 - 4 of 4 reviews.
Review by thorold
16/06/2015
In summer 2010, Simon Armitage decided to do the Pennine Way, England's oldest (and probably toughest) official long-distance walking route. The PW is one of those "because it's there" things: if you grew up in the north of England and own a pair of walking boots, you've almost certainly contemplated doing it, although you may well have seen sense before setting out for 2-3 weeks of foot-slogging through peat bogs in bad weather.Since thousands of people have walked the route during the last half century, and many of them have written books about it, he had to find a new angle, so he decided to do the walk as an indigent poet, giving a poetry reading every night during the trip and relying on the kindness of strangers for accommodation and meals. As he's quite a well-known figure, and (I'm told) rather well house-trained for a poet, he seems to have got plenty of offers of help, many of them from people who were obviously rather outside the little world of poetry and were a bit nervous about what sort of a person would turn up. In his final chapter, he calculates that he even made a small profit on the venture — roughly what he would have earned by working at minimum wage for the same number of hours, which is more than most poets get. It's an artificial exercise, of course, but as sponsored expeditions go, this concept struck me as refreshingly small-scale and low-key.Armitage is a poet who manages to keep pretty much the same fresh, Northern voice in prose that he uses in his poems, and the book is a very lively, immediate account of his walk and the experience of giving readings in various unlikely rural venues. The scenery and the people he met along the way give him plenty of scope for reflection, but the book is also about what it feels like for a normally sedentary person to undertake this kind of physical challenge, something he approaches in the typically indirect way of a poet. He seems to have worked largely from voice notes he recorded on his mobile phone as he walked, which perhaps accounts for the spontaneity of the text. The prose text is very nicely illustrated with Armitage's own photographs and a few poems he wrote along the way.
Review by shanaqui
16/06/2015
I like Simon Armitage's work, and I like the north of England -- it's not as good as Wales, but it'll do, and the landscape is very familiar to me. I grew up in West Yorkshire, so the Pennines are very much part of my mental landscape. So this book was interesting to me in a lot of ways: I haven't walked the Pennines, but I'd like to (maybe not the whole Pennine Way); I'm interested in the way Simon Armitage chose to pay his way, as a "modern troubadour"; I'm interested in Simon Armitage himself.<br/><br/>It's a good read, full of Simon Armitage's slightly self-deprecating, wry humour. I laughed out loud at some parts, and most of all at his anecdote about a reading attended by a doughnut (a man dressed as a doughnut, of course), protesting that doughnuts can like poetry...
Review by sloopjonb
16/06/2015
I've never quite managed to get into Armitage's poetry, but I enjoyed this. Possibly because it was about places I know, but mostly because the Bard of Marsden is an engaging companion on the walk, and has a very nice line in description, and a wry humour I found very much to my taste.
Review by Ma_Washigeri
16/06/2015
This book won it's 4 stars on the second half of the book. The finish might even have tipped 4 and a half so if you are not enjoying the beginning as much as you expected, keep reading. The journey itself was obviously not as satisfying as the author had hoped. I have never walked the Pennine Way but I have done quite a lot of long distance walking. My memories of my own walks hold a freshness and immediacy that seem lacking from this walk - maybe not lacking, but few and far between. I wonder if age has something to do with it as my walks were many years ago (before children) and although I was in my 30s they were bright adventures through mist, rain, sun, wind, hail and snow. Through light and dark, up hill and down dale, vivid companions and the joy of walking ever onward, until returning to home life. The author's journey seems to have had more impact internally and I get the sense that the continuity of the internal life did not allow for that sense of beginning and end and special time in between. But maybe the same would be true for me now.