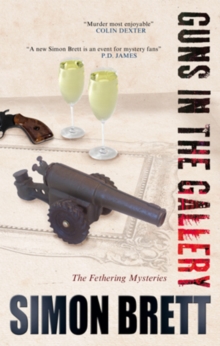 Guns In The Gallery : The Fethering Mysteries
Paperback
Description
Invited to a Private View of the work of controversial artist Denzil Willoughby, the good citizens of Fethering are not quite sure what to expect. And it turns out to be a lively affair, culminating in several embarrassing confrontations.
But what no one could have anticipated was that the evening would end in sudden, violent death.
The police seem happy to accept that it was suicide, but Fethering residents Carole and Jude remain unconvinced ...
Information
Format: Paperback
Pages: 208 pages, black & white illustrations
Publisher: Severn House Publishers Ltd
Publication Date: 29/06/2012
Category: Crime & mystery
ISBN: 9781780295176
Free Home Delivery
on all orders
Pick up orders
from local bookshops
Reviews
Showing 1 - 1 of 1 reviews.
Review by smik
16/06/2015
It is unusual for me to read two books in a row by the same author, so it is probably a mark of how much I enjoyed the last I read in this series, BONES UNDER THE BEACH HUT that I have tackled the second so soon. (In fact I have a third waiting in the wings, CORPSE ON THE COURT, simply because my library had them all.)To be honest, GUNS IN THE GALLERY is not as good as BONES UNDER THE BEACH HUT but probably only marginally so. The plot takes Carole and Jude into the art world and the eco-tourism world. We meet new residents of Fethering. Not new to Fethering so much as new to us. I'm always amazed, whether it be Fethering, Midsomer, or St. Mary Mead, how there are people who pop out of the woodwork. The excursion into the world of "art" makes Carole cringe a bit, but of course Jude meets people who are her "healing" clients.Jude and Carole see themselves as real detectives with a case in hand. The cases really provide a focus for Carole's daily existence if not for Jude. They have taken up following people, even on to train journeys and through the streets of London. I am a little uncomfortable with how they sometimes let themselves be mistaken for under cover police and I feel sure that is going to rebound on them soon. I am also a little amazed at how willing people are to tell these busybody/noseyparkers everything they want to know. They often beat the police to the resolution of the crime.Despite all of this, or maybe because of it, followers of this series will enjoy this outing. If you are new to Fethering, do yourself the favour of starting at the beginning of this cozy series with the alliterative titles, so you get the full story. Look for THE BODY ON THE BEACH. (Read an extract here)On the back of the copy of GUNS IN THE GALLERY that I read, there was a commentThis is a cozy with a biting social conscience.I thought about how applicable this is to the whole series. Simon Brett is an astute observer of people, and a commentator on some of the silliness and pretentiousness we get up to, either in groups or by ourselves. He pokes fun at how seriously Jude and particularly Carole take themselves but they are both keen observers of others, and though the books feel as if they are devoid of real time settings, they do say something about the world we live in.