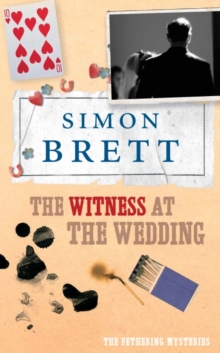 The Witness at the Wedding
Paperback
Description
Carole Seddon's son is about to be married. But as plans for the big day get underway, Stephen's future parents-in-law, Marie and Harold, seem desperate to keep the affair as discreet as possible.
Then, after a quiet engagement party, Harold disappears ...only to be found dead the next day, in a burnt out car in Epping Forest.
While the family try to deal with their grief, Carole discovers they are concealing secrets that can be traced back thirty years, to the murder of Marie's best friend.
Now the girl's killer has been released from prison and is back in his old stomping ground, near Fethering.
As Carole enlists the help of her friend Jude in researching the truth, Gaby returns to London to find herself in grave danger.
Fearing the bride-to-be is the killer's next target, Carole and Jude must unravel the Martin family's past before he makes another deadly move ...and before the happiness of the impending wedding day is ruined.
Information
Format: Paperback
Pages: 300 pages
Publisher: Pan Macmillan
Publication Date: 03/03/2006
Category: Crime & mystery
ISBN: 9780330426961
Other Formats
EPUB from £5.75
eAudiobook MP3 from £14.24
Free Home Delivery
on all orders
Pick up orders
from local bookshops
Reviews
Showing 1 - 1 of 1 reviews.
Review by brokenangelkisses
16/06/2015
The opening sentence made me wince: 'Oh, I didn't tell you there's a history of murder in my fiancée's family, did I?' To me, this seemed clumsy and overly provocative: not a good start. But then, I was already anticipating something a bit dull, since this is 'cosy crime': the sixth in the 'Fethering Mysteries' series, in which two retired women solve crimes by chatting to criminals over large glasses of wine in the local pub. Charged with reading this for my Crime Fiction group, I was really worried that it wouldn't be my cup of tea, and the alliteration in the title (which is true of all the titles in this series) almost convinced me that it would be mass produced rubbish. Clearly, I felt, the writer had spent more time on creating a 'clever' title than on a good opening sentence, which never bodes well for the story within. However, the other choices looked far worse, so I grabbed this one quick and prepared for a Midsomer-Murders-esque read. Actually, I really quite like the odd dose of Midsomer Murders, so I was in a fairly positive mood and prepared to suspend some disbelief... Carole Seddon, the main amateur detective, is an awkward divorcee who is finding it a bit easier to get on with her estranged grown-up son now that he has a fiancée in tow - the lovely Gaby. Gaby, however, clearly does not want to discuss the 'history of murder' which Stephen alludes to at a polite family lunch. Carole is intrigued, but being a thoughtful woman obsessed with the polite nuances of social interaction, she decides that there will be plenty of time to get to know all about Gaby's background, and worries about where the wedding will be held instead. (From my own experience at the moment, I know that weddings are a great topic to fall back on whenever the conversation gets a bit awkward or dries up altogether. 'So...how's it all going?' is a question I've come to dread, albeit because the answer is usually 'no further since last time you asked, actually'.) Carole's middle class sensibilities make her dreadfully afraid that the wedding might take place in - whisper it - Essex, of all unseemly places, but fortunately, Gaby and her family are keen to hold it in the much more acceptable Worthing, even though it's quite far from where they live. In fact, they're keen to keep it all as quiet as possible, and Gaby's parents are extraordinarily introverted, barely speaking to poor Carole, who awkwardly tries to play nice at an uncomfortable lunch and engagement party. The blurb reveals the key plot incident that allows our nosy amateur to really get involved in her future daughter-in-law's life: the death of Gaby's father in a burnt out car, and a threat to Gaby herself. Gradually our insistent do-gooder interrogates what remains of Gaby's strange family, and becomes the subject of reluctant and increasingly revealing confidences. Along the way there are some mildly amusing episodes: drinks with a twitchy criminal in the local pub, a warning phone call from the real Detective in charge of the case and an almost unbelievably stereotypical chat with a very gentleman-like prisoner. On the whole, the action is so sedate it's almost funny in itself, especially after the murderer is revealed and - after a short action sequence - Carole gets to relax over a polite meal again. Middle class preoccupations abound in this novel and Carole is, for instance, not a racist, but simply a woman of a certain age who has been brought up with certain expectations. Given that, the hinges the plot swing on are not surprising, although the murderer's casual justifications seem slightly unreal. I also found the villain was quite predictable, although that might simply be because I have read/watched so many crime capers. It's a gentle read, somewhat balanced by Carole's friend Jude, who investigates alongside her friend, but gets ever so slightly less screen time. Jude is a hippy - according to Carole. It is amusing to observe their interactions and the distaste Carole has for her friend's occupation, although it made me feel like shaking her by the shoulders and telling her not to be so damned snobby. Jude's more personal, tactile approach is also important in solving the case, as is an old friend of hers, who stirs up a great deal of jealousy in Carole and adds a 'dealing with mental illness' element to the novel. Overall, I found this a relaxing read and Jude's personable nature balanced out most of Carole's irritating ways. Gaby's history is unremarkable when revealed, but this really is Cosy Crime: there is no bad language here and although danger hovers, you know it'll never really harm the main characters. I haven't read any others in this series and did not feel like that was a problem; this seems to be a discrete addition to an average series, and although I'm not inspired to read another one any time soon, I may do in the future, so something must have appealed!