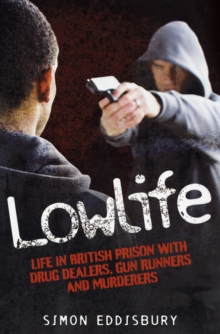 LowLife : Life in British Prison with Drug Dealers, Gun Runners and Murderers.
Paperback
Description
Arrested for the first time for selling MDMA to an undercover police officer but by no means a career criminal, Simon Eddisbury was about to experience the prison system from the inside.
He had only been dabbling in crime to pay off a student loan but he soon realised that he was going to go down. Eddisbury resolved to make the best of his punishment.
He would spend his time finding out what motivates the mind of the contemporary criminal.
It would be something to focus on to help him get through the months which stretched out in front of him.
With no idea of what to expect or who he would meet, he knew he had no option. Alone and terrified in prison, he nevertheless steeled himself to speak to more than 50 of his fellow offenders - from drug dealers to armed robbers.
Some had killed, many would not have thought twice about doing so.
Eddisbury's investigation was going to take him into a dark and seedy world inhabited by people intent on taking what doesn't belong to them by whatever means necessary.
His interviews give voice to those whose views are rarely heard. Criminals are often portrayed as Robin Hood type characters - lovable rogues who take from society as a whole in order to give back to their deprived communities.
But a far more disturbing picture began to emerge. Some inmates are good people driven to crime through difficult circumstances but a shockingly high number are completely amoral and lead very dark lives indeed.
Information
Format: Paperback
Pages: Illustrations
Publisher: John Blake Publishing Ltd
Publication Date: 06/09/2010
Category: True crime
ISBN: 9781844549603
Free Home Delivery
on all orders
Pick up orders
from local bookshops