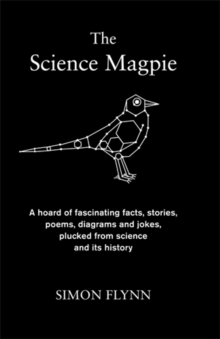 The Science Magpie : A Hoard of Fascinating Facts, Stories, Poems, Diagrams and Jokes, Plucked from Science and Its History
Hardback
Description
From the Large Hadron Collider rap to the sins of Isaac Newton, The Science Magpie is a compelling collection of scientific curiosities. Expand your knowledge as you view the history of the Earth on the face of a clock, tremble at the power of the Richter scale and learn how to measure the speed of light in your kitchen. Skip through time with Darwin's note on the pros and cons of marriage, take part in an 1858 Cambridge exam, meet the African schoolboy with a scientific puzzle named after him and much more.
Information
Format: Hardback
Pages: 288 pages
Publisher: Icon Books Ltd
Publication Date: 04/10/2012
Category: Popular science
ISBN: 9781848314160
Free Home Delivery
on all orders
Pick up orders
from local bookshops
Reviews
Showing 1 - 2 of 2 reviews.
Review by passion4reading
16/06/2015
As the description on the front cover implies, this is not a coherent narrative but a miscellany of facts, poems, stories, diagrams and jokes (including the funniest science joke I've ever heard) plucked from science and its history and covering all branches of science from algebra to medicine and robotics. There is no thematic organisation but rather a haphazard, lighthearted collection through the various branches and ages, so that you never know what comes next, something I liked. Written engagingly and with a wry sense of humour, this book will appeal to anyone with an interest in science but will probably be scoffed at by serious academics. The facts are explained in clear, unambiguous language and the terminology explained, even though there were still too many equations for my liking. Some concepts are more difficult to get across than others (e.g. quantum mechanics) and I can't say that I now understand everything 100%, but I really enjoyed learning more about fields where my knowledge left something to be desired, such as the facts about the Large Hadron Collider or Einstein's theory of relativity, but I now have a much better idea what it is all about. If anything, the book whets the appetite to find out more and delve deeper into some subject areas. Ever wanted to know science facts to impress your girlfriend with or your mates at the weekly pub quiz (or I my physicist husband), then this is the book for you. Here you will learn the lyrics to the Large Hadron Collider rap, the etymology and scrabble score of some common scientific words, or learn how to measure the speed of light using chocolate, a microwave and a ruler, but there's some serious science too. A very accessible foray into some fascinating areas of science, I would be very surprised if not everyone found something in this book that interested and appealed to them. Recommended.(This review was originally written as part of Amazon's Vine programme.)
Review by hashford
16/06/2015
I decided to get this book because I wanted a book full of interesting titbits, completely irrelevant to almost everything, but entertaining to read. Something that I could pick up and put down after a few minutes.Unfortunately, this was made impossible by the large chunks of text, sometimes 2 or 3 unbroken pages of droning text, which I invariably ended up skipping. It's written far too much like a scientific report to be entertaining at a glance. But on the other hand, the science in it was much too simple to be interesting, and not covered in enough depth. Most of it I knew better from my standard GCSE courses.On occasion he did pull up a gem, like Charles Darwins pros and cons of getting married (which included 'better than a dog') a student's answer to the question to is hell endo- or exothermic, and the large Hadron Collider ripoff but he invariably spoiled it, as with the Torino Impact Hazard Scale where he took a full page explaining what only really needs a sentence.Flynn needs to decide whether he wants this to be scientific and informative or light hearted and entertaining.