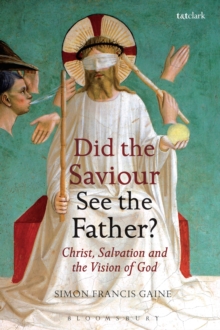 Did the Saviour See the Father? : Christ, Salvation, and the Vision of God
Paperback / softback
Description
Did Jesus enjoy the beatific vision of God on earth that Christians hope to enjoy only in heaven?
This important question is related to a whole series of questions about Jesus, his knowledge and self-consciousness.
Did he know he was God's Son? What did he know of his saving mission? These issues are linked to a fundamental question: is the Saviour we need one who is altogether like us or one who is in some ways unlike us?
This book argues that God gave us a Saviour with beatific knowledge, and who in this respect is very unlike us indeed. The answer commonly given by Catholic theologians to this question underwent a dramatic shift in the middle of the 20th century.
Previously there had been a general unanimity based on the teaching of Thomas Aquinas that the answer was 'Yes': the earthly Christ did indeed possess heavenly knowledge.
The theological situation was then radically altered to one where the answer 'No' became predominant.
Theologians preferred to treat Christ's knowledge in terms of self-consciousness, ordinary human knowing, faith, prophecy and mysticism, not the beatific vision.
This book addresses the reasons why theologians abandoned Aquinas's thesis, arguing it has been too easily dismissed.
Considering the evidence of Scripture and Tradition, and then moving from Christ's extraordinary knowledge through his ordinary knowledge, to his will, emotions and bodily life, the book sketches an outline of the extraordinary Saviour God has in fact given us and who is indeed the Saviour humanity truly needs.
Information
Format: Paperback / softback
Pages: 232 pages
Publisher: Bloomsbury Publishing PLC
Publication Date: 31/05/2018
Category: Christian theology
ISBN: 9780567682130