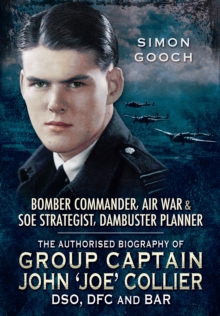 Bomber Commander, Air War and SOE Strategist, Dambuster Planner
Hardback
Description
John Collier's war began on day one, flying Hampdens in 83 Squadron with his friend Guy Gibson, in a hunt for the battleship Admiral Scheer.
By the summer of 1940 he was bombing the Dortmund-Ems Canal at low-level, then Bordeaux and the Scharnhorst at Brest, which led to his DFC and Bar.
Given command of 420 (RCAF) Squadron at 25, Collier was hand-picked to direct 97 Squadron, whose Lancasters made a spectacular debut with the 1942 Augsburg Raid.
In Gibson's opinion "Joe" Collier's 97 was the best unit in Bomber Command.
After 63 missions Collier was awarded the DSO and was selected to join the Directorate of Bomber Operations (B Ops 1) at the heart of the air war: co-ordinating with the USAAF, issuing directives to Bomber Command, and arguing for precision attacks on vital enemy industries and weaponry.
In B Ops 1 John Collier was closely involved in planning the Dambuster Raid with Barnes Wallis, drafted the attack on Peenemunde's V-weapons research station, and managed to delay the "buzz-bomb" and rocket assault on London.
As target selector for the specialist 617 Squadron, he and Leonard Cheshire VC made imaginative use of Wallis's Tallboy "earthquake bomb". 617 were also linked to Collier's role with SOE's "Blackmail Committee" that gave French industrialists a stark choice: sabotage your own plant or be bombed flat.
By the time he moved to India in 1945 as Deputy Director of Combined Ops, John Collier had been involved in most of the major initiatives of the bomber war.
His unpublished memoir of B Ops 1 and his logbooks and letters home give direct authority to this the first biography of this remarkable flyer, one of the most significant young RAF officers of the war.
Information
Format: Hardback
Pages: 240 pages, 20 illustrations
Publisher: Pen & Sword Books Ltd
Publication Date: 21/01/2015
ISBN: 9781473827516
Free Home Delivery
on all orders
Pick up orders
from local bookshops