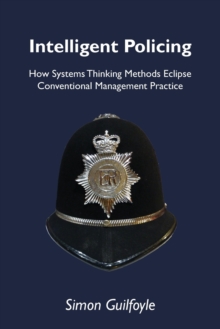 Intelligent Policing : How Systems Thinking Approaches Eclipse Conventional Management Practice
Paperback / softback
Description
Policing is at a crossroads. At a time of unprecedented cuts and increasing levels of demand, the British police service (like many others) faces enormous challenges.
Under the most radical reforms the service has ever experienced, its leadership is looking for new approaches that can maintain levels of service delivery and secure efficiency, accountability and public confidence.
Recent history shows that applying private sector business models to the public sector often generates hidden costs and unintended consequences that damage productivity and morale.
In spite of this evidence, reform programmes and prevailing management practices still seek to enforce approaches that have demonstrably failed.
In Intelligent Policing, Simon Guilfoyle proposes a simple and elegant solution that refocuses organisational activity on the service user.
Drawing on his own experience as a police officer, he uses a range of evidence to explore the possibilities that systems thinking offers.
He clearly outlines how a systems-based approach can bring greater efficiency, improved service delivery, enhanced morale and reduced cost.
He shows that the practices and models proposed in the book can be implemented immediately and insists that senior police leaders and policy makers have an ideal opportunity to make lasting improvements today that will resonate throughout policing and leave a positive legacy for the future..
Intelligent Policing is a rich resource for those - in the UK and around the world - who care about delivering an effective policing service in the 21st Century.
It will also interest systems theorists for its practical approach to policing and inform academic debate in the fields of management and human behaviour.
Information
Format: Paperback / softback
Pages: 372 pages, illustrations (black and white)
Publisher: Triarchy Press
Publication Date: 28/03/2013
Category: Police & security services
ISBN: 9781909470057
Free Home Delivery
on all orders
Pick up orders
from local bookshops